Alliant Energy Center goes to the dogs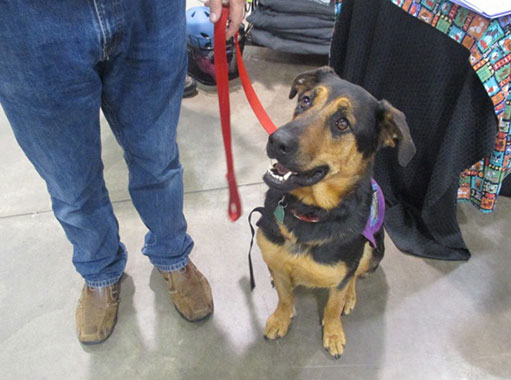 The Wisconsin Dog Fair was held on November 1, 2015 at the Alliant Energy Center. At the fair, dogs were allowed to walk around as long as they were on a leash. Information on all types of breeding groups was provided, whether sporting, herding, non-sporting, or any other kind. At the fair there were many interesting booths to help owners and their dogs; kennels, groomers, and many more. Events included demonstrations of agility in teams from Badger Kennel Club. Dogs jumped over hurdles, weaved between poles, etc. Special guest David Frei, voice of the Westminster Dog Show, was in attendance. Dog alliances, hospitals and many shelters in need of donations and humans willing to adopt were out making their mark at the fair. I met adorable dogs like Cody and a cute Shih Tzu named Cream. These dogs need to be adopted, like many others. Here are organizations looking for adopters, donations and volunteers:
Wisconsin Vest-A-Dog
A non-profit organization endorsed by the WI Veterinary Association. All volunteers.
Their Mission is to protect K-9 police dogs by giving them vests.
All donations are used for purchase and shipment of vests and other protective equipment.
"17 dogs died last year in the line of duty"
www.wivestadog.org or email at [email protected] or call (608) 752-3539 for donations and information.
Golden Rule: Rescue & Rehabilitation (GRRR)
A non-profit rescue group who "take in Golden Retrievers and Golden mixes that have lost their way."
GRRR fosters and finds homes for Retrievers. All volunteer, no paid staff. All money goes to the Retrievers.
GRRR's mission is to provide rescue, rehabilitation, and re-homing of unwanted, neglected, abused, homeless, and displaced Golden Retrievers and Golden mixes.
For more information visit www.goldenrulerescue.org or email at [email protected] or call (608)490-GRRR (4777).
English Springer Rescue (ESRA)
ESRA does not have a shelter. They are a volunteer group that works online. They have dogs in the care of foster homes across the United States.
ESRA's mission is to "Rescue, Rehabilitate and Re-home Loving Springer Spaniels"
Visit springerrescue.org for information and merchandise for dogs and humans.
White Paws German Shepherd Rescue
Non-profit organization dedicated to ensure the welfare of German Shepherd Dogs.
Their mission is to "help ensure the welfare of all German Shepherd dogs by rehabilitation, and placing unwanted and abandoned GSD's from shelters and similar situations into new homes and providing education and guidance to new owners."
"GSD's" were bred over the years to have more "mellow and sensitive nature than their colored counterparts". They are shy unless early socialization is done which creates more confident in the dog.
Visit www.whitepawsgsr.com or email at [email protected] or call (920)606-2597
Badgerland Gordon Setter club
For anyone interested in Gordon Setters
They provide educational and fun activities about Gordon Setters
For more information visit www.badgerlandgordonsetterclub.org
New Beginnings Shih Tzu Rescue
A charitable organization of volunteers dedicated to rescuing small dogs.
The dogs come from surrendering owners, shelters or pounds, puppy mills, breeders who are reducing their stock, and other sources.
NBSTR does not have a physical shelter. The volunteers use their homes to foster, transport dogs, help at adoption events, etc.
Visit www.nbstr.org or email at [email protected] for donations and adoption information.
Wisconsin Westie Rescue
An organization dedicated to the rescue and placement of West Highland White Terriers or Westies.
Their mission is to rescue, provide homes and educate the public about the breed and the responsibility of owning a Westie.
"Changing Lives One Westie at a Time"
For information visit www.wisconsinwestierescue.com or email at [email protected]
Banfield Pet Hospital
Affordable, Quality care, and convenient with expanded hours.
For information on appointments, insurance, etc. visit Banfield.com or call 800-768-8858