New skatepark provides epic changes for Madison skaters
After a 14-year effort, Madison lands its first public skatepark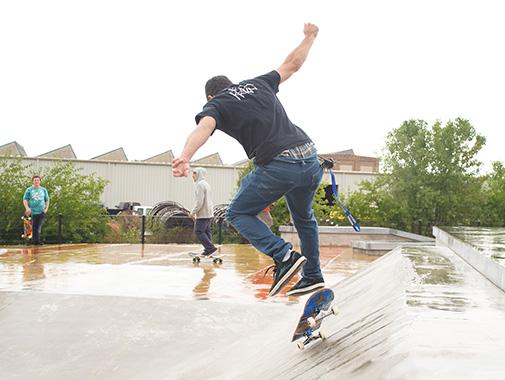 Pat Hasburgh and the Madison Skatepark Fund have spent 14 years trying to bring a world-class skatepark to the downtown. The group has persevered through funding struggles and other challenges to create a park unlike any other in the Midwest.
The grand opening for Goodman Skatepark was held on Sept. 10, providing a stunning new location for Madison skateboarders.
Hasburgh, the Madison Skatepark Fund co-founder and a Madison College alum, said skateboarders have long sought a place in the city to enjoy their sport.
"In Madison, it's only legal to skate on a sidewalk in a residential neighborhood, which makes the whole downtown illegal," he said. "It's been a lot of looking over your shoulder for many years here in town."
With limited access, some skaters have looked elsewhere for decent skate spots that don't involve potential interactions authorities. Though Hasburgh confirms that the local scene has remained strong, he said the group expects to improve the bond with the local skating community.
Although skateparks can be found in the surrounding cities of Verona, Middleton and Sun Prairie, the Madison Skatepark Fund hopes the Goodman Skatepark can serve as a local homestead as well as a regional asset.
"Skaters from around the state and Midwest will travel here, so expect to see some new faces," Hasburgh said.
Skateboarders are excited to see what Kanten Russell, former pro and the park's designer, has done with the unique space. Russell said he finds blending urban terrain and backyard pool styles as a positive park feature that helps skateboarders become versatile, and his new design shows just that.
"The Willy Street Coop Eggplant Bowl is unlike anything in the Midwest," Hasburgh said about the classic vertical element in the park. "It's a legitimate pool from top to bottom with full pool coping, wedding cake steps, purple tile and tight transitions like an actual pool."
As for the park's urban aspect, Russell and the group have incorporated a few familiar pieces.
"The other neat thing we have is a monument to the 'Slam Walls' which was basically the most iconic Madison skating spot until it was tore down this spring," Hasburgh said.
Before the Slam Walls were destroyed, the Madison Skatepark Fund took down its specifications and handed it over to the construction crew to build a replica.
"It's pretty impossible to skate, but that's what makes it so rad," he said. "Anyone who knows about slam walls will love skating that."
But as much as the park will benefit those who've waited the 14 years for its completion, the Goodman Skatepark will also interest the new generation of skaters in Madison. With a variety of features, this park is sure to draw in young eager skaters.
"Our park will have something for every type of skateboarder," Hasburgh said. "Kids coming up will be able to try a full range, from transitions to street stuff, right in one centrally located spot. Kids are going to shred this place."
As for the future of the park, Hasburgh pretty much leave that part up to the local skate community. He states that his group has no plans, however.
"The local shops (Alumni, Freedom and Focus) are planning to have teams come through," he said. "I think Alumni is even doing one in October."
The Goodman Skatepark opened its doors this past week and will be open every day from 8 a.m. to 10 p.m.