Donation to build new Goodman Sports Complex
Goodman Foundation provides $6 million for new softball, soccer facilities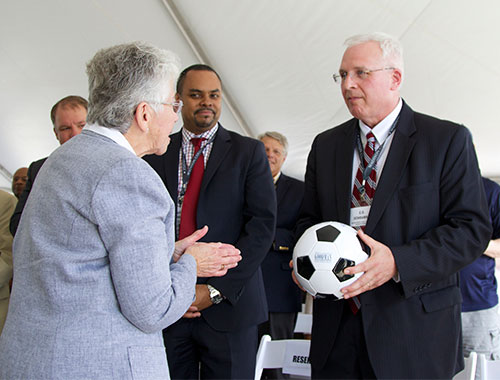 New softball and soccer fields will be coming to Madison College within the next two years thanks to Bob Goodman's love of softball and a generous $6 million gift from the Goodman Foundation.
In a news conference on June 3, Madison College President, Dr. Jack Daniels, announced the plans to build new soccer and softball facilities funded by the generous donation.
E.G. Scharmka, executive director of the Goodman Foundation, explained why Madison College was chosen for this opportunity.
"This was an important gift Bob Goodman wanted to leave for the citizens of his beloved city, especially children participating in softball," said Scharmka.
"To follow through on Bob Goodman's request that a sports complex be constructed in Madison with foundation funds, the foundation contacted potential organizations that would be enthusiastic about the foundation's desire to build a sports complex, had the amount of land necessary for this major new facility and had the ability to take care of the facility. The Goodman Foundation found the perfect fit with Madison College."
The facility, to be named the Irwin A. & Robert D. Goodman Sports Complex, will include a softball field with seating for 500, a soccer field with seating for 300, a concessions stand and announcers booth. Both fields will be turf bottomed, making weather less of a factor for games.
Bob and Irwin Goodman have a 70-year history of philanthropy in the Madison area that lives on through the Goodman Foundation. These efforts include funding for the city's first community swimming pool and for the women's softball stadium at the UW-Madison campus.
Leo Kalinowski, academic advisor for student athletes and head softball coach at Madison College, shared his enthusiasm about the new sports complex at Madison College.
"It's probably going to be one of the premiere junior college softball complexes in the country," said Kalinowski. "We will be able to recruit better quality athletes, student athletes here and upgrade the program."
Second year student and softball pitcher for Madison College, Bridget Jost, also talked about how she believes the upgrade will improve Madison College's athletic standing.
"I think it's going to tremendously build the program. There's going to be so many athletes now that are going to be wanting to come here," said Jost. "The facilities are amazing, and I think its just going to keep on building up the school and the reputation of Madison College."
But this new facility will not just be for Madison College. The complex will be open for public use and events along with summer camps and community tournaments.
Alex Fralin, chief of secondary schools for Madison Metropolitan School District, and John Harmelink, youth program manager for the East Madison Community Center, expressed their excitement for potential partnerships for future use of the facility for school and community based programs.
Keith Cornille, senior vice president for student development and success at Madison College, sees many benefits of the new sports complex.
"It's going to help the community, its going to help with the youth in the community which will get them, I think, better prepared for college long term," said Cornille.
He said students who participate in camps and activities at the new sports complex will be more likely to visit the other college buildings and participate in other activities, like career exploration.
Daniels also talked to the benefits of athletics and why Madison College is so invested in providing these opportunities not only to our students but also to the youth and members of the surrounding community.
"Participating in sports provides valuable lessons about conflict resolution, self-discipline and the importance of developing a can-do attitude," said Daniels. "And participating in sports teaches young people how to fall down, make mistakes and rebound with grace. They often develop an appreciation for coaching and mentorship. The life skills learned by young athletes are the same life skills that will make them successful in college and beyond."
Construction is expected to start in spring of 2016 and completed in the months following. This will become the home field for Madison College's men's and women's soccer and softball programs.