Student Senate's bike clinic offers variety of services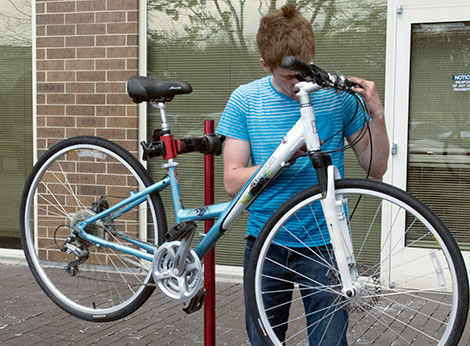 The eighth semi-annual Madison College Bike Clinic came to an end Wednesday, serving just under 50 students and their bikes in time for summer.   Providing a variety of services, from replacing rusty chains to mending bent handles, riders dropped off their bikes and got them back the same day.  And the best thing about it; the service is free to students.
Common bike issues this year were damaged tires, loose brakes and rusty chains.   Tyler Desjardins, former Madison College student and the talented solo engineer, worked hard to get through as many bikes as he could while also ensuring each bike received the proper care.
Desjardins explained where the idea of the bike clinic came from.
"It came from my class final project about four years ago.  Ric Poole, then classmate and Student Senator, discovered the project and brought it to what it is today," said Desjardins.  "I want to help as many bikers as I can and the Bike Clinic is a great way to do it."
Run by the Student Senate, the bike clinic happens every semester at the Truax and Downtown campuses. Only offered for two days, time for bike slots quickly filled up. Just halfway through each day the schedule was full and no more bikes could be added to the fix list.  David Fernandez, Vice President of Legislative Affairs for the Student Senate spoke about what the Student Senate hoped to accomplish with the clinics.
"(The Student Senate) provides services to students such as parking and the shuttle buses. However, we don't provide much help to the bikers of our school, which is a major way of transportation for our students," said Fernandez.  "Now with the Bike Clinic, there are a lot of students being helped. And each year it just gets bigger and bigger."
With the roads all clear and the sun out up above, this event couldn't have come at a better time.  Eli Reichenberger, a student who rides his bike to school whenever possible, expressed his gratitude for the event.
"The MATC Bike Clinic is in perfect time with the true dawning of Spring. We are lucky to have such a valued service done when many can't afford paying for their bikes in exchange for school and other responsibilities," said Reichenberger.
This couldn't be truer for student Jenii Quiyote, whose bike was broken by a stranger attempting to steal it last year.  As an everyday rider without a bike, she was faced with a problem.
"I couldn't spend a lot of money on my bike, so going to a shop wasn't an option.  It was broke for over a year, but then I heard about the bike clinic and brought it in today," said Quiyote.  And now she'll be riding home.
Along with fixing tires, Tyler provided a complimentary tune-up.  If anything on the bikes are completely broken, bring in the replacement and Tyler will fix that too.  The Bike Clinic has become a valuable service for students and faculty alike.
Whether you're training for the Tour de France or are an occasional evening stroller, bring your bike in to the Bike Clinic to be fixed, cleaned, and tuned up for no cost.  Have a safe summer and ride on.