Next step for the college's fitness center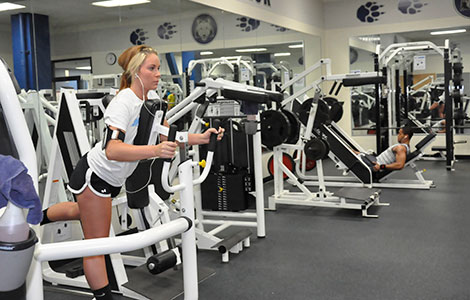 With finals approaching, stress levels reaching record highs and thoughts of summer plans begin, many are hitting the gym to relieve stress and anxiety or to work on getting ready for swimsuit season.
However, Madison College's Fitness Centers will not be open for student use over the summer.
Phase two of the Fitness Center renovations at Truax has been approved and construction will begin soon after classes are finished.
Although no official date has been announced, the anticipated start date for the project is May 18.
Unfortunately this means that the Fitness Centers at Truax and Downtown will be closed through August, but will be ready for the start of fall classes.
After a referendum for funding passed in April 2013, the first phase was constructed.  That included turning the racquetball courts into cardio centers.
Steve Hauser, the Director of Athletics at Madison College, described what all the second phase of renovations will entail.
"In this second phase all of the current walls will be removed and ceiling heights increased to open up the floor plan and make the space more safe, user-friendly and efficient.  A small classroom will be added to address the need for physical education classes to meet  – at present they sit somewhere on the floor," he said.
Additionally all existing weight equipment will be replaced with new, state-of-the-art Cybex equipment.
Other features of the renovation include new carpeting and rubberized flooring along with a new drinking fountain station.  The office area will be expanded and the ventilation, lighting and sound system will be replaced.
The total project is expected to cost $400,000 and will be paid with fees generated from the Health and Fitness student referendum.
Although the closures may seem like a burden now, Hauser believes the project will pay off and be much more conducive for college students.
"We are looking forward to having a space that is more appropriate for a college – an environment that will be welcoming and functional for our wide variety of user groups," said Hauser.