Earth Day with Dr. Neil deGrasse Tyson
People pack Monona Terrace to hear the astrophysicist discuss environmental awareness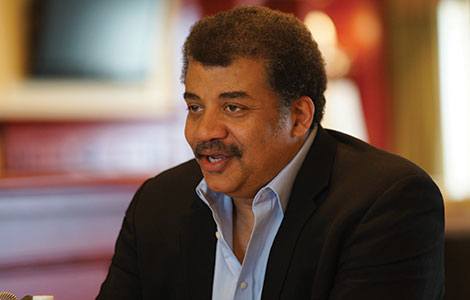 "Hard science, Tough Choices: Shaping the Future on a rapidly changing planet" was the theme of the ninth annual Nelson Institute Earth Day Conference hosted at the Monona Terrace April 20. Over 50 exhibitors, including Madison College, had booths set up to demonstrate the plethora of ways we can reduce pollution and embrace going green.
Each exhibit ranged from simple to large and from fairly new to the conventional. The Aldo Leopold Foundation, for example, offered many maps and day plans for those interested in hiking the trails located behind the foundation's "Legacy Center" while Circle Sanctuary offered a religious approach by "serving people of Pagan and other Nature-centered spiritual paths."
At the Madison Colleges sustainability club booth, a few of the renewable energy department students held down the fort with project director and instructor Chris Folk. The booths goal was to give people something they could see and touch and literally grasp .They had a hand crank generator made by students for the guests to use and see how to make one themselves.
The UW system was also in attendance and had seven exhibitors; one of which released information on the Lakefront Gateway, which is planned to combine the Memorial Union, Alumni Park and One Alumni Place with a large walkway where visitors can "engage in the Wisconsin experience."
In addition to the exhibits, speakers Scott Bernstein, Monica White, and Paul Robbins discussed the growing issues concerning large cities. Chicago was the prime example in the discussion of an American city that needs further improvements with public transportation due to its limited grasp to urban commuters. It is common knowledge that public transport has an impact on the environment by providing commuters with an alternative to driving, essentially carpooling on a larger scale.
Also speaking at the conference was renowned scientist, author and TV host Dr. Neil deGrasse Tyson. In addition to highlighting the importance of respecting our environment, Tyson also stressed the need for scientific knowledge.
Prior to his presentation Tyson provided some political insight on what makes a good leader. A good president "knows how to listen to people" he told reporters. He went on to say that most politicians see college age adults as two kinds of people: "those who can vote and not yet vote." He also encouraged voters not to be upset when a leader makes a mistake. Tyson urges voters to remember that it was they who voted that leader into office.
"Humans will survive, civilization will not," he said answering a question regarding what will happen to people everywhere if our rate of pollution is not at least lowered.
Tyson opened with a simple topic. Our sight, hearing, smell and other senses are adequate but machines can sense far more than humans ever could alone. These machines help scientists gain a better understanding of the environment, but a good scientist will never necessarily use data to "prove" something. Tyson's speech soon snowballed from the senses to scientific integrity. It is a debasement to science when specific points of data are "cherry picked" to enforce a belief.
Dr. Tyson also encouraged college students to take hard classes to challenge themselves by quoting the late president John F. Kennedy, "We choose to go to the moon, not because it is easy but because it is hard." After a student's first job, employers no longer care about GPA according to Tyson, they want a worker who can think and solve problems.
Tyson recognized that many people were, and still are, upset when the International Astronomical Union (IAU) took Pluto off the list of planets in 2006. What was his proposal for a solution? Simply, "GET OVER IT" printed in large block letters he had projected onto the screens of the presentation hall. To this day Pluto only meets two of the three criteria needed for an object in space to be declared a planet.
In 1968, Apollo 8 successfully orbited the moon, snapping a picture of Earth, as it appeared to rise over the moon's horizon. Tyson said that before that photo was taken, people saw the earth much differently, an unsinkable ship adrift calm waters. But like the Titanic, people soon began to realize that the Earth was not indestructible. Soon after the "Earthrise" picture in the late '60s and early '70s, more organizations began developing projects to protect the ecosystem; an effect that Tyson says was not coincidence.
Dr. Tyson concluded his presentation by taking the Apollo 8 "Earth Rise" photo to a broader scale. Upon the large screens he projected an image taken by "Cassini," a spacecraft sent on a flyby of Saturn. On July 19, 2013, NASA rotated Cassini to take a photo of earth, and much like the picture of Earth rising over the moon, the photo of Earth as a pale blue speck in comparison to Saturn gave onlookers a new perspective of the planet.
Tyson then asked for the lights to be dimmed as he read a passage from the late astrophysicist Carl Sagan's book "Pale Blue Dot." The passage brought to the audience's attention how infinitesimally small Earth and its problems seem in the immense cosmic scale and how cooperation is the key to survival.
"The Earth is a very small stage in a vast cosmic arena," Tyson read. "…It underscores our responsibility to deal more kindly with one another, and to preserve and cherish our pale blue dot, the only home we've ever known."