Sex Education, Madison College style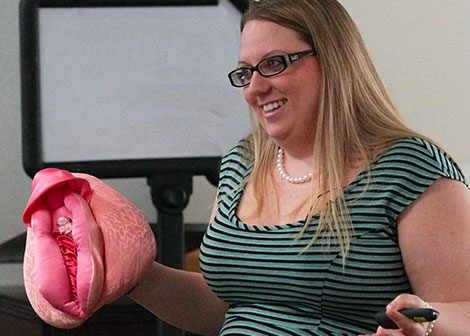 April is Sexual Assault Awareness month, and there have been multiple opportunities for education around campus.
On April 22, The Madison College Sociology Department is hosting a screening of the documentary film "The Hunting Ground."
The film follows the tragedy of sexual assault stories on college campuses. The film will start at 2:30 and following the film, a panel will discuss sexual assault and answer questions from students.
On April 16, board certified sexologist Dr. Justine Shuey came to enlighten students on the (not) so mysterious nature of human sexuality. Shuey gave a humorous and engaging presentation, flying through what seemed like an entire semester's worth of material in an hour and a half.
Anatomically correct puppets helped lighten the mood. Students were then encouraged to anonymously submit sex questions to the Dr. Shuey. A lot of ground was covered, but here are a few tid-bits from the presentation.
1) Porn sex and real sex are two very different things. Pornography is shot for the viewing pleasure of others and does not accurately depict human sexuality.
2) Virginity is a social construct. It means different things to different people.
3) Orgasm rate for hookups is 44 percent for men and 19 percent for women.
4) Dr Shuey says,"Every time you fake an orgasm, you ruin it for the rest of us. Your partner is going to do exactly the same thing to you next time, or to us."
5) Skin hunger is the physiological need be touched 10 times a day.  Hug more, consensually!
Madison College students were able to get free testing for sexually transmitted diseases (STDs) at school on April 7 and 13.  Free STD testing is available in Madison at Planned Parenthood.