Playful pets ready for adoption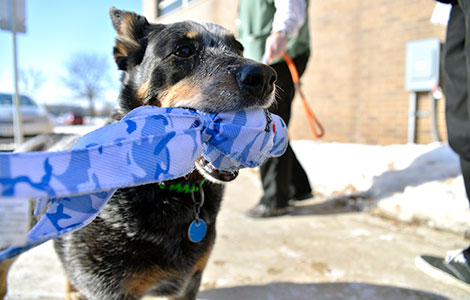 Whether you seek companionship for yourself or a loved one, adopting a pet can always help. Madison College offers pet adoption through its Veterinary Technician program.
They receive cats, dogs, rats, rabbits and guinea pigs from humane societies in Watertown, South Wood County, Adams County, and Green County.
The adoption program is a community service from Wisconsin Student Association of Veterinary Technicians that pairs animals with suitable owners through a series of compatibility tests and background checks.
"We have always adopted out our animals since the program was started on the downtown campus in 1972," said Melissa Hayden, Senior Laboratory Coordinator of the vet tech program. "The student-run program that you see today was started in 2005."
Peaches, a middle-aged, Australian cattle dog, hailed from the South Wood humane society was ready for anyone and everyone to drop by to play. Visits with humans were far too infrequent at the humane society, so she transferred here and now receives much more face to face interaction than in the past. Playing fetch with her giddy attitude towards humans demonstrates her eagerness for visitors.
One cat from Adams County, Poncho, came out of his cage with the notion that everyone in the world was there to give him attention.  He sprawled himself out on the floor for all of the humans to worship and pet him.  His fluffy, black fur was covered in dust from the floor by the time he left, but he left unphased, he received exactly what he came for.
Are you interested in meeting Poncho, Peaches, or one of the many other animals staying here at Madison College?  All you have to do is head over to the Vet Tech Program across the hall from the Truax Child and Family Center during the visiting hours: Monday-Friday 8:30 -11:20 a.m. ; 12:30 – 3:20 p.m. You can also schedule an appointment for a different time by calling (608) 246-6553.
This month there will be a Pet Adoption Open House Event on March 24 from 4 p.m. – 6 p.m.  This event will provide information on the adoption process for anyone who stops by as well as an opportunity to interact one on one with the animals and fill out an adoption application.
The program recommends interested parties fill out an application on their initial visit, as animals are adopted on a "first come, first serve" basis.  All of the animals live at school until the end of the semester, regardless of pending adoptions.  All adoption fees go to the shelter where the animal came from. Information on how to apply as well as a list of things to consider can be found online at http://madisoncollege.edu/pet-adoption.