Enter crosswalks with caution
Low visibility and low awareness combine, causing accidents and injury on campus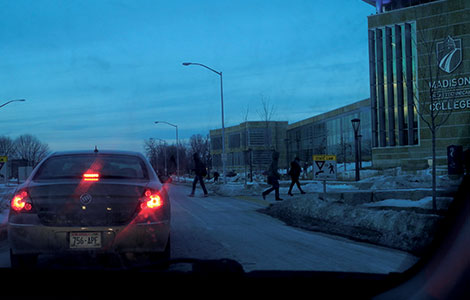 Earlier this year, two Madison College students were hit in the crosswalks around the Truax campus. In one incident, the victim suffered a broken leg and had to be transported to the hospital.
This prompted a response from Sgt. Joe Steffen of the Madison College Public Safety department in the Feb. 4 issue of the Clarion.
"We urge students to be extremely cautious when entering and utilizing crosswalks around campus, as well as when driving to and from campus.  Be sure to always look twice and yield to pedestrians," said Steffen.
Throughout the renovation process, improvements were made to the crosswalk outside the main gateway, with two lanes now being brought down to one and the crosswalk itself being raised to a speed bump-style fashion.
Joshua Cotillier, Manager of the Risk Management and Environmental Health and Safety department, commented on what the school has done to reduce the risk of accidents in the crosswalks.
"We've done what can working with the city, but ultimately we (the college) have taken it as far as we can," said Cotillier.  "Really the city said this is as far as we're willing to go with permitting and approval.  So really we're kind of at their mercy."
Cotillier explained that the standards set by the city require the lighting of the crosswalks to be bright enough so that the pedestrian can see the ground, see their surroundings as well as to be seen by oncoming traffic.
In the DMV accident report from the Jan. 22 incident, the officer reported the roadway being dark or not-lighted and the driver claimed he couldn't see the victim until impact.
But Cotillier also holds responsibility to distracted driving and walking.
"You could light it up like a Christmas tree but if people aren't paying attention either walking or driving, not to say the student who broke his leg was doing either of those things…," said Cotillier.  "…Take that personal responsibility too of, 'I need to make sure not to assume someone is going to stop here.  I need to make sure the walkway is clear as well.'  Be your own personal body guard, I always tell people. Always advocate for yourself, always be aware of your surroundings."
For those students who feel this is an issue and would like their voices to be heard, Cotillier would like them to contact their Student Senate and let their student representation voice their concerns.
"Student Senate is always dedicated to improving the college for students.  This is one of those grey areas where it becomes unclear on what to do," said Isaac Brown, Student Senate President.
"On a late afternoon at the beginning of last semester, I watched a student get hit as she crossed the street only a few feet ahead of me.  She was OK, but it is definitely something I'd rather not have happen again."
To contact Student Senate email them at [email protected], call (608) 246-6107 or just drop in their office and speak to a senator directly in Room C1438.