Police training at the Truax Campus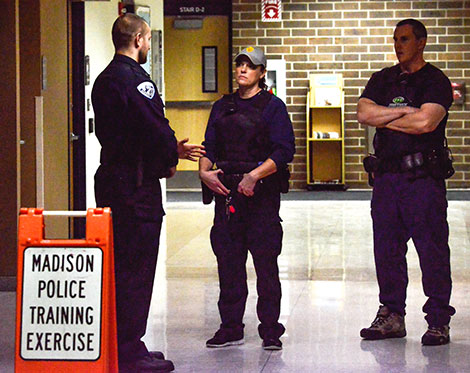 On Monday, Jan. 12, Madison Police North District held its annual in-service training event at Madison College. More than 75 Madison Police Officers attended the training, which included:
A tour by Public Safety Officers of the Truax Facility
A K9 demonstration
An active shooter scenario
A scenario involving a mentally disturbed subject which included both Madison College Public Safety Officers and Madison Police Officers working jointly toward resolution of the situation.
This training opportunity was to allow Madison Police to better know the Truax Campus in the event they have to respond here.  It also allowed for Madison Police to work with and understand the Public Safety Officers role on campus.
The Public Safety Office wanted to offter its thanks to Madison College Criminal Justice Association members that volunteered to be actors in the scenarios.