Students gain experience in Grab 'N' Go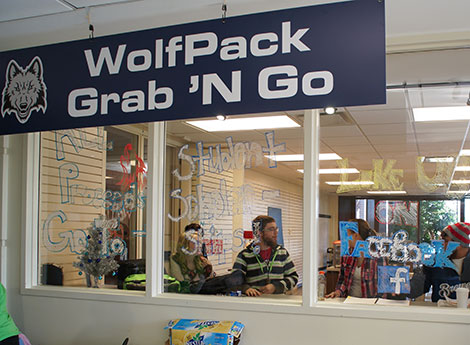 West Campus now offers the Wolfpack Grab 'N' Go, a convenience store for students to get what they need and still get to class on time. The Business Organization and Management class has a lot to do with getting this project off the ground.
The Grab 'N' Go's grand opening was on Tuesday, Nov. 11, and it will be open Monday through Thursday, 8 a.m.-1:30 p.m.
It's a tax-exempt non-profit effort, run by student volunteers, and has benefited from donations by Econoprint, Ascentives, and others. All profits going to the Risk and Insurance Management Club, the goal being to raise as much money as possible for scholarships.
"(Last semester) there was no food available at this campus," instructor Martha Lester-Mittenzwei said. "Students and staff were eating stuff in vending or going without eating."
She had her class conceptualize a plan and presented it to the dean. Students, faculty and staff were surveyed to determine who would want the store and how many would come. The class received an inspection by the Department of Public Health, as well as training in health and sanitary procedures.
So far, they've seen a pretty good amount of traffic. "We get to do some real work and it's a different experience," one of Lester-Mittenzwei's students said.
"It is not as easy as we thought to coordinate a business," said another student. "Networking is huge, as well as talking to vendors and learning how things work in the real world. You can not get it from a book."
The students found it was surprisingly difficult to track sales, and where they break even.
"The faculty wants us to be successful," Lester-Mittenzwei said. "Everyone here brings something to the table."
The Business Organization and Management class invites anyone and everyone to check out the Grab 'N' Go.