Governor wants to put freeze on tuition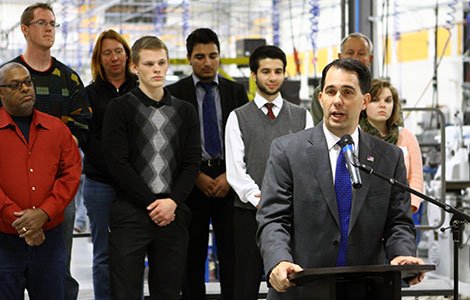 Gov. Scott Walker said that he wants to continue a tuition freeze for the University of Wisconsin System and expand it to include technical colleges for the next two years.
Walker said that the plan has "huge support" from students on UW campuses due to the 5.5 percent annual increases that were routine prior to his election four years ago. Tuition has risen at tech colleges, but at a lesser rate. At Madison College tuition has gone up an average of 4.6 percent over the last five years, with the most recent increase at 3 percent. Tuition is set by the Wisconsin Technical College System.
While a freeze in tuition would keep student costs stagnant, it would also limit the ability of the college to raise revenue. Gov. Walker acknowledged as much when talking about the possibility of the freeze.
"One of the things I said today talking to the Presidents (of the Wisconsin Technical College System) was that I would sit down with them and talk about how to make that work and what the right way to do that (would be)," Walker said during a brief press session following a visit to Madison College on Nov. 6. "We want to make sure that we make it affordable and at the same time we make it practical for what people are looking for."
Tim Casper, Executive Director in the Budget and Grants Department at Madison College said that a tuition freeze would certainly change the conversation come budget time.
"We offer a pretty affordable education already for students across the 12 county district that we represent, and it's important that we're able to continue to offer low tuition for folks. But we also need to recognize that the college needs a certain amount of revenue to be able to operate and deliver that education to students," Casper said.  "We think that we've had some pretty reasonable tuition increases in the last year or two and we'll see what comes of this proposal."
Casper explained that the institutions affected most by a tuition freeze are those that have small budget reserves. Madison College is currently sitting on a "healthy" reserve that is 24 percent of their operating budget. This gives the college leeway in having to incur short-term debt throughout the school year.
In the event the college does take on debt, they are issued a rating through the Standard & Poor (S&P) and Moody's rating agencies. In part because of their strong financial reserves, the college maintains the highest rating possible, AAA, leading to the lowest possible interest rates.
Since the state legislature passed Wisconsin Act 145 this past spring, the source of revenue for technical colleges has shifted. The law reduced the tax burden on property owners by 47 percent while replacing that $406 million loss with additional state funding. Act 145 coupled with levy limits (put in place the by the Republican legislature and Gov. Walker in 2011) has put many technical college districts in a tight spot.
During an interview with the Janesville Gazette in August, Blackhawk Technical College President Tom Eckert described the perfect storm of legislation that left them having to cut $4.9 million from their budget since 2011, resulting in layoffs, vacant positions, program closures, and some service discontinuation. A tuition freeze would eliminate the last available tool for a college like Blackhawk, which is located in Janesville, to raise revenue.
Blackhawk brought a referendum to the voters in August to raise its operational budget by $4 million dollars a year. The referendum failed.
Gov. Walker said that he plans to move quickly on his legislative agenda, including the new two-year budget, with an even stronger GOP majority in the State Assembly and Senate. A decision on the expansion of a tuition freeze for technical colleges will likely be made by the end of January.