The Clarion wins 3 national awards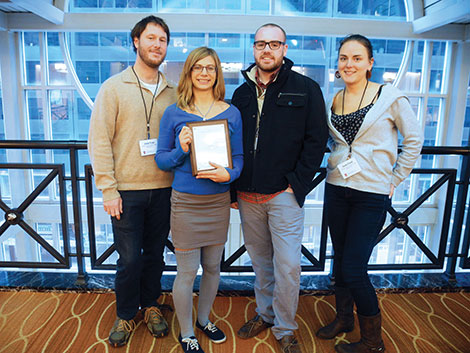 Members of The Clarion staff received three awards at the Associated Collegiate Press National College Media Convention held in Philadelphia from Oct. 29-Nov. 2.
The Clarion was recognized as an ACP Pacemaker Finalist during a special awards ceremony on Nov. 1. Recognizing excellence in collegiate journalism among two- and four-year college media, the Pacemaker is unofficially known as the "Pulitzer Prize" of student journalism.
Editor in chief Natalie Connors accepted the award on behalf of her staff. Joining her at the convention were opinion editor Joe Pruski, sports editor Frederic Hewitt and staff writer Onawa Powell.
It was the eighth time The Clarion has been recognized as a Pacemaker Finalist. The Clarion was the only student newspaper in Wisconsin to be named as a finalist.
In addition, The Clarion received a first-place Best of Show Award for special sections, winning for the election section that was published on Oct. 29, 2014. This competition was open to all newspapers in attendance at the convention.
Finally, The Clarion received a third-place Best of Show Award for two-year college tabloid newspapers. This category was open to all two-year college newspapers that publish in a smaller size than broadsheet.
A full list of winners can be found at http://studentpressblogs.org/acp/2014-national-college-media-convention-best-of-show/.