Auto club offers clinic to prep for winter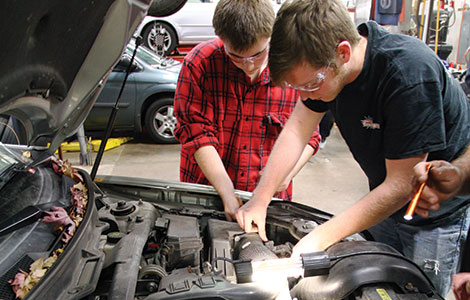 With winter right around the corner, it's time to break out the boots, gloves, and hats to prepare for the yearly plunge into snow, sub-zero temperatures and icy roads. Vehicular preparation is almost as important as personal preparation, although this is the part that many people seem to forget about.
The Madison College Auto Club looks to solve this dilemma by offering a yearly "auto clinic" – a free event where they offer vehicle inspection, preparation, and recommendations for the upcoming winter months. All the members ask in repayment is a non-perishable food donation for Second Harvest, a local food bank.
Joe Brouette, president of the Auto Club, said the yearly event is great for both the members and the community, as a myriad of different makes and models roll through the door. Pulling up to the bay doors, I was directed to an open rack, and one of the Auto Club members took over behind the wheel.
Soon my car was up in the air, being carefully examined and scrutinized for any issues, from a serpentine belt inspection to a muffler check. Within 10 minutes, I was handed a completed inspection form, with all of various exams checked off, and notes explaining what should be repaired or replaced; a useful tool to bring to a car care facility if I were to be receiving any additional maintenance.
While it's important to have proper vehicular maintenance year round, it's particularly relevant in the winter, where snow and ice on the ground can make for slippery conditions, and cold temperatures strain the battery and electrical system.
Tires, whether winter or all season, should be checked for tread depth and integrity, as well as proper pressure. Brakes should also be checked for caliper and pad integrity and remaining life. Fluids such as antifreeze wiper fluid should be examined and topped off if necessary – wiper fluid is used significantly more in the winter months, so it's not a bad idea to leave an extra container in the trunk somewhere.
Lastly, a battery check test, which can be performed at almost any auto shop, will verify that the battery has enough power left to continue to turn the engine over after a long cold night.
Apart from mechanical maintenance, it's also highly recommended to keep some extra supplies in the car – perhaps next to the aforementioned wiper fluid – in the event of a breakdown or malfunction. A blanket, hand warmers, and flashlight are always good to have close at hand in case of an unanticipated delay.