Students share views on governor's race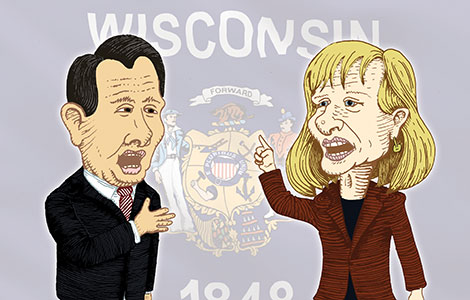 Many contentious issues will drive voters to the polls on Tuesday, Nov. 4. Recent polls show the 2014 Governor's race is still anyone's game and Madison College students will cast their ballots with many concerns on their minds.
Many students are undecided while others are strongly in support of incumbent Scott Walker or challenger Mary Burke. Several issues have affected students personally or will impact them in the future and a few Madison College students shared with The Clarion what was on their mind.
"I think jobs being created is the main issue for me," said Bailey Ayres, a Liberal Arts Transfer student.
Jobs has been the main topic discussed and debated by the candidates and it weighs heavily on the minds of voters all across Wisconsin.
"The wage gap between men and women. And also my education here," said Melissa Miller, a Marketing and also Meeting and Event Planning student, "People want a career and not just a job, they want a career that they can be proud of and make a good living, without having to take a second or third job."
One major concern for students is healthcare, "The way that budget cuts have been for BadgerCare and the health system for the impoverished," said a Biotech Post-Baccalaureate Intensive Certificate student, "I personally have seen a lot of cuts that have affected myself and people who are college age level. (Walker's) trying to increase the economy of Wisconsin at the state level by taking all the benefits away from those who need it. While at the same time giving tax cuts to the wealthy who don't need it."
Kelsey Shaw, a Liberal Arts Transfer student is concerned about women's right to choose on issues like abortion. Shaw said she would probably vote for, "Mary Burke, I like her policy on women. Being a women that's important to me."
There are many undecided voters across the state and at Madison College. One student said Wisconsin has taken steps forward under Walker's leadership, but isn't sure about the costs.
"I'm still undecided. I like the fact that Walker has managed to make numbers work, but I do not like the fact that he has done the union busting," said a Madison College Information Technology student, "Just because you get something done doesn't mean you're doing it the right way. Those are some of the top concerns. Taxes of course. Bringing additional employers and resources in to the state. I know there's been several grant funds that would've possibly come to the state and we basically said no thank you. That's why I'm on the fence."
Minimum wage is a topic that will affect many students at Madison College as they work to pay rent while earning their degrees. The issue seems irrelevant to one student who is unsure of the impact that a change will have.
"Minimum wage is something that gets brought up quite a bit," said Chris Pedersen, and Electronic Engineering Technology student, "At first that's more or less why I was leaning towards Mary Burke because as someone who does work at a lower income job I would like that. But, I just don't know…I was recently unemployed and it took me a while to find a job and I realized that most places are starting you out around $8 or $9 an hour, so a boost in that wouldn't really do much."
Pointing to the progress the state has made since the Governor took office, one student will be casting their ballot for Governor Walker.
"No matter what people say I think he's really turned this state around as far as our deficit," said a Madison College Liberal Arts Transfer student who chose to remain anonymous, "Even if he's burned some bridges along the way."
Other students are decidedly in favor of Burke because of decisions Walker has made during his term in office regarding teacher wages.
"I do agree that Walker's opened up the state for a lot of jobs. He's opened Wisconsin for business. There's a lot of pros and cons," said one Madison College Liberal Arts Transfer student. "But since I'm going to school to be a teacher I don't like that he cut teacher pay. When I was in high school there was a big pay cut and I heard about it from several of my high school teachers…State teacher pay has been cut and I don't approve of that so that's why I'm voting for Mary Burke."
There are students who fundamentally disagree with Walker's policy and the direction the state is going yet are unconvinced that either candidate has all the right answers.
"Basically, Scott Walker is taking Wisconsin in exactly the wrong direction. I feel like Mary isn't going in the right direction either but it's not quite as bad," said Ted Voth, a Medical Assistant student, "Pretty much everything that Walker did and everything he stands for I'm totally the opposite. It just amazes me that the people of Wisconsin voted for him in the first place. And then they voted for him in the recall just stuns me."
Students at Madison College are passionate about several hot-button issues in this year's race like healthcare and job creation. The results of this election could have long lasting impacts on the lives of everyone in Wisconsin. Madison College voters will show up to turn in their ballots and choose our state's direction next Tuesday.