12 newly elected Student Senators to take office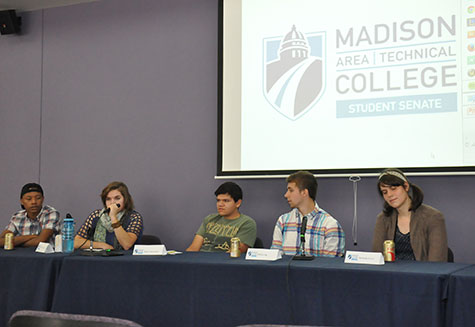 The results from the Student Senate election are in. Twelve new student senators will hold office for the next year. The new representatives were sworn in to office on Oct. 9 at the Truax campus during the General Assembly meeting.
Student senate is working towards several initiatives that will improve Madison College for its attendees. Some issues the group is working to improve are parking and commuter services, textbook cost reduction, gender neutral bathrooms, and making the school more green-friendly.
"I am excited to start working for the students," said Tannen Todd, a newly elected Student Senator. During an interview, Todd spoke about a few of the initiatives he will be working on.
"I really want to get started on making the school more green, a community garden maybe," Todd said. "I am going to find out if we can put a garden on the roof that will help with cooling during the summer."
Todd said this would help save on energy costs and improve air flow in the school. The Student Senate has been working on a horticulture project that would add community gardens, a greenhouse with hydroponics, and composting.
"We're working with the GSA club to work for gender neutral bathrooms and also LGBT rooms," Todd added. "We're going to start a grass roots movement and get a petition to try to get that done."
The Student Senate wants the campus to feel inclusive and will work towards equal rights among the minority student population.
When asked about what his overall goals are for the new postion, Todd said he wants to "Make Madison College a friendlier environment than it already is. To make it more diverse and try to get more people involved. To get more people to see other people's cultures. To make it easier for students every day, reduce prices, and have better experiences."
The Student Senate will meet every Thursday at 4:30-6:30p.m. in the Board Room in the Administration Building and all are welcome to attend.