National Manufacturing Day
Lieutenant Governor visits college's manufacturing classes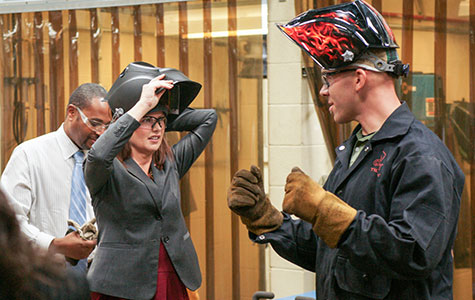 Put down the pens and pick up a blowtorch. Lt. Gov. Rebecca Kleefisch and Department of Workforce Development Secretary Reggie Newson donned welding helmets and experienced hands-on learning during their visit to the Truax Campus as part of National Manufacturing Day.
The pair toured Madison College's "Made in Wisconson" exhibit with Metals Class students from Oregon High School, and visited a college welding class funded in part through Governor Scott Walker's "Blueprint For Prosperity" initiative. The Wisconsin Fast Forward funding helped erase a three-year wait list for welding students by adding two new class sections.
"Instead of waiting, they're welding," Denise Reimer, Dean for the School of Applied Science, Engineering, and Technology said.
Madison College received the lion's share of the nearly $15 million allocated to Wisconsin technical college's through the Wisconsin Fast Forward program. Of the $5 million Madison College received, $2.7 million is marked for manufacturing, according to DWD figures.
"There are 76,000 open jobs (in manufacturing) in desperate need of qualified workers," Lt. Gov. Kleefisch said. "This funding allows for more instructors and eliminates waiting lists."
Madison College student Juan Martinez was one of the students waiting to be enrolled in a welding class.
When grant money came through, Martinez, 26, received word that he could register.
"It means a lot. I wasn't planning on (enrolling) until 2015, and when I found out, I handed my boss the letter and told him I would be leaving," Martinez, who was formerly unloading trucks for a living, said. "It's about advancement in life. The more you know and the more skills you have means better employment (opportunities)."
Reimer said that students, like Martinez, acquiring skills through Madison College manufacturing programs are in high demand across the state right now.
"I receive weekly phone calls from manufacturers looking to hire our graduates," she boasted. "Innovative dedication to advancing Wisconsin manufacturing creates the real world experience to meet the needs [of employers]."
Both Lt. Gov. Kleefisch and Secretary Newson tried their hand at welding during the tour of the class. Prior to strapping on the welding helmet, Lt. Gov. Kleefisch told students that they were making a smart career choice.
"The average manufacturing job pays 10 percent more that what other average workers make," she said. "So you're making a good choice."
Before visiting the welding class, Secretary Newson and Lt. Gov. Kleefisch toured the college's "Made in Wisconsin" exhibit with students from Oregon High School.
Sophomore Jacob Janecek said that touring the exhibit and seeing what manufacturers are creating would be useful in his future plans.
"I want to be an engineer, so I want to learn to use the tools that I will be using someday," he said.
Earlier this month, President Barack Obama declared Oct. 3 "National Manufacturing Day" in an effort to raise awareness of a vital American industry.
"On National Manufacturing Day, more than 1,600 American manufactures will open their doors and take up the important work of inspiring our young people to pursue careers in manufacturing and engineering," Obama said in the proclamation.
"Today's science, technology, engineering, and math graduates will power the next chapter of American production and innovation, and harnessing their potential is an economic imperative."
At the state level, Gov. Walker has declared the entire month of October "Manufacturing Month."