World Culture Connection
Student Life holds multicultural student social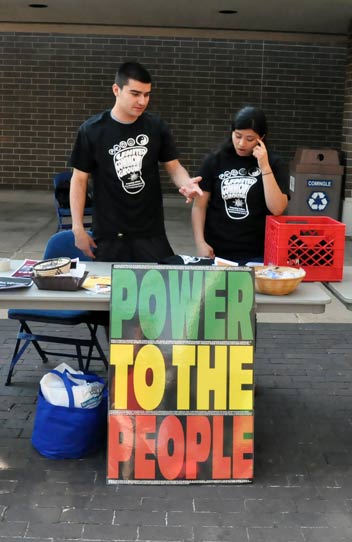 On Sept. 19, the Center for Student Life hosted its second annual Multicultural Social. Attendees included student, faculty, and greater Madison families representing areas from around the world including Ghana, Senegal, Togo, Haiti, Cuba, Spain, Peru, and Somalia.
The purpose of the event was to connect culturally with the many faces of diversity represented on campus within the student body. The Multicultural Social brought up more than just hungry students and mad dance skills, but the ethical debate as to whether or not diversity is as embraced as it should be.
"The idea of embodying true diversity amongst other nationalities is great," says Black Student Union member Esun Hudson, "but it's a political fad here. We don't do events like this because we truly embrace it; we do it because it's a mandate."
While many students and faculty acknowledged Madison College's effort to embrace multicultural awareness on campus, some recognize the amount of work that needs to be done to make a true difference.
"It's not represented the way it should be," said Galal Salama, a student at Madison College from Egypt. "We just label each other, we see people and we assume we know where they are from, and we move on. … In order to truly embrace diversity, we need to start in this next generation of children and raise them being accepting of all people, regardless of skin color or ethnicity, without the silent stereotyping."
Madison College President Dr. Jack E.  Daniels III gave a short speech, emphasizing that "the key elements of our program's plan is diversity, its inclusion, and our commitment to that."
Clarel Algere, a Black Student Union member from Haiti, praised Madison College's progress.
"It seems a lot more diverse this year than last, and it's a great opportunity for students to get to know each other and share cultures, instead of just passing one another in the halls and never talking," she said.
Madison College currently hosts over 170 international students in various programs.
"I think Madison College does such a good job embracing diversity," says Bernice Ayite-Atayi, who originates from Togo, West Africa. "Comparing to other schools I've been, it's not like this at all. It's so nice to see people from Africa, Europe, all over here getting along."
Anna Martinez, an international student from Spain and childcare teacher, sees efforts to embrace diversity beginning early on in education.
"Children are belief-blind," she said. "They come in to the classroom and they are so naturally accepting, because they have such a natural perception of diversity with no sense of difference between themselves. Kindergartens in Spain have a lot of racism where the white kid will point at the black kid, but you don't see that here in Madison."
Karaoke performances by students, faculty and guests kept the crowd entertained with songs like ABBA's "Dancing Queen" to Chris Brown's "Yo (Excuse Me, Miss)".
"Madison College hosts so many different events like these, and it's a great approach to pushing diversity," said student Sekani Caire.
Other fun activities included a raffle, photo booth and free beverages and dinner.
"It's a great way hang out, have fun and to get to know one another," says Kwame Koranteng, a member of Black Student Union and originally from Ghana, West Africa.
Several of Madison College's clubs were represented including Asian American Student Associations, Black Student Association, Native American Student Association, United Common Ground and Orgullo Latino.
The event was held from 3 p.m. to 7  p.m. at the Truax Patio and was free of charge.