What did you do over spring break?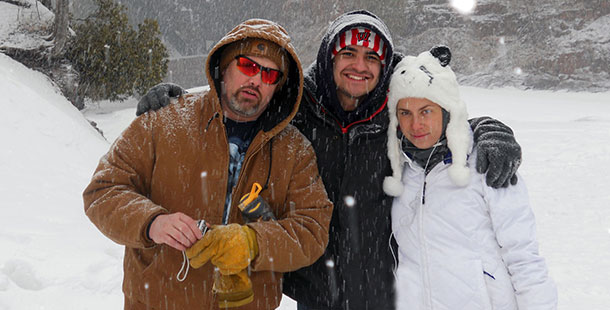 Elizabeth Osterberger, News Editor
March 26, 2014
Some students spent Spring Break catching up on sleep or playing video games. Some fled Madison on boundless adventures, while others  added hours at work or got ahead on studying.
A few groups at the college took a rather different approach to the infamous week of freedom. Students in these groups traveled to various places across the country to help others. They joined Madison College's alternative spring break trips to Ely Minn., New Orleans, La. and Indianapolis, Ind. to help with efforts from building new homes to working with bear research.
The International Wolf Sanctuary and Vince Shute Wildlife Sanctuary in Ely and Orr, Minn. 
During Spring Break, a group of animal loving students headed up to Ely Minn. to do volunteer work and learn about field research at the International Wolf Foundation. They also volunteered at the North American Bear Center where they learned about bear research. On top of that, they spent time working at a sled dog kennel where they learned about dog sled racing and dog athletes. The busy crew also stopped at a sea cave in northern Wisconsin and Goose Berry Falls, a Minnesota State Park, to learn about life on Lake Superior. On evenings, trip facilitator and Madison College veterinary technician instructor CC Sheldon led the group in snowshoeing and owling.
As soon as student William Garrett heard that Madison College offered a trip to the International Wolf Center, he knew he wanted to join. "All of my life I have loved wolves and here was a chance to do something to help them out," he said.
Garrett also mentioned how much respect and adoration he gained for the other volunteers, especially Dr. Sheldon and the trip's student leader, Zach Zimbal. He tells those interested in Alternative Spring Break trips not to hesitate. "Do it. It can be a life-changing experience," he concluded.
Women of Color Scholars Program trip to Gleaners Food Bank and Second Helpings Food Pantry in Indianapolis, Ind.
A group of eleven students traveled to Indiana to volunteer at Hawthorne Community Center, Gleaners Food Bank and Second Helpings Food Pantry in Indianapolis, Ind. Lead by clerical technician Luciana Reichel and her student assistant, Susana Paiz, the volunteers worked with children and senior citizens at Hawthorn, sorted food at Gleaners and cooked food at Second Helpings. The group stayed at a farm called Natural Valley Ranch, which is home to 80 acres of land, numerous animals and the cottage that housed the volunteers.
Reichel said the most meaningful part of the trip was connecting with the kids and senior citizens they met. "We got to know what kind of lives they lived and the stories they had," said Reichel.
Student volunteers said that this trip was much more appealing than the traditional spring break idea. They enjoyed the opportunity to see the whole process from socializing in the community center, to inspecting and sorting food in the food bank, and cooking at the food pantry.
St. Bernard Project Rebuilding the Homes and Lives of Katrina Survivors in New Orleans, Louisiana. 
Construction and Remodeling instructor John Stephany and student leader Zoe Messing led a trip to New Orleans in which students helped rebuild homes in the city that is still recovering from Hurricane Katrina. The students helped out with the St. Bernard's Project, an award-winning nonprofit organization committed to providing efficient and affordable housing for Hurricane victims in the Greater New Orleans area.
Students on the trip stayed in the St. Jude Community Center, which opened up many of their eyes to the poverty and loss that still exists in New Orleans.
"The city of New Orleans is a beautiful place, but it would be nice to see everyone with a home," said student volunteer Bradley Utegaard.
John Steinbach, one of the students who went on the trip, said "Perhaps one of the greatest meanings I took from the trip was that my time and effort as an individual really makes a difference – something I never felt before. I was able to see what my work did from beginning to end and knew that someone would greatly appreciate it."
Another student, Kelsi Disch was greatly influenced by the other volunteers she traveled with. "I went into this trip with 11 strangers and came out with 11 friends. We couldn't have been as successful as we were on this trip if we didn't have each other," she said.