The Clarion wins 5 awards at media convention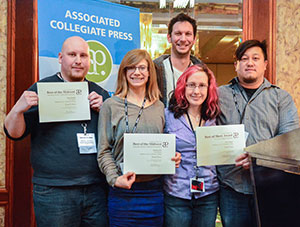 Clarion staff report
February 19, 2014
The Clarion received five awards at the annual Associated Collegiate Press Best of the Midwest Journalism Convention in Minneapolis on Feb. 7-9.
Madison College's student newspaper won first place in the Best of Show competition for two-year newspapers. Second place in the category went to City College News of the Minneapolis Community and Technical College, while third place went to the MATC Times of Milwaukee Area Technical College.
The Clarion also took fifth place Best of Show for publication web site, a category that was open to both two-year and four-year college newspapers. All of the publications finishing ahead of The Clarion in this category were from four-year schools.
In addition, The Clarion staff won three individual awards.
Managing editor Jacob Ennis received a second-place award for news photography. In the editorial and commentary category, graphic designer Natalie Connors won a third-place award and news editor Ryan Spoehr received a fourth-place award.