Vet Tech trip helps sanctuary over winter break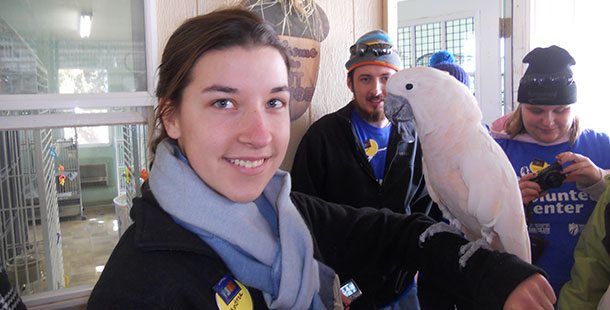 What did you do during your winter break? Visit family, perhaps or open some presents or eat too much chocolate? Maybe you played way too many video games or read a book. Inevitably, some of us had more interesting breaks than others.
Over this past winter break, 11 students and two faculty members took a trip to Utah to help Best Friends, an animal sanctuary. They helped care for all kinds of animals, from parrots to dogs and cats to cows. The week long trip, which took place from Jan. 4 to Jan. 11, gave the students in the Vet Tech program an opportunity to give back to the community and help a charity that needs it in a big way, said Dr. Clarissa Sheldon, program director of the Vet Tech program at Madison College.
"None of us is so smart that we can't scoop poop for a while," Sheldon said while discussing how important this kind of trip was to the sanctuary and to the students. "It's a chance for them to give back, and to realize that they do know something useful, something that people need."
Sheldon emphasized she believes service should be a part of everyone's life, now and in the future. She is the lead on the Vet Tech service trip program, a program that Madison College has been helping fund since 2009. In that time, Sheldon and her students have gone to primate rescue, bird rescue and even the everglades to help animal related charities and rescue operations.
Best Friends Animal Sanctuary helps save animals that have needs too extreme for traditional animal shelters, from bunnies that were rescued from pens with more than 800 animals to dogs, cats, parrots and horses that have severe medical or social needs.
The students participating in the trip did everything from cleaning the animals and their environments to caring for them, feeding them and even helping to improve the facilities of the organization.
"We do whatever is needed," Sheldon said.
It's not all work, though they do a lot of it. During their trip to Utah, Sheldon and her students took the opportunity to visit Zion national park and Pipe Spring.
"We work all morning, then sometimes take the evening to experience part of the area. We have a lot of fun," Sheldon said.
For those who may feel left out, needn't worry. This upcoming spring break, the Vet Tech program is going to Ely, Minn. to help out the International Wolf Center and the National Bear Foundation. Another group is going to New Orleans to work with the St. Bernard's Project, and both trips are still accepting applications. People interested in going on those trips should contact Jennifer Edens in Student Life by phone at (608) 616- 3486 or via email at [email protected]ge.edu.