Governor signs bill for health students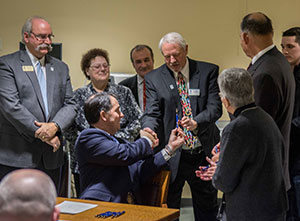 Ryan Spoehr, News Editor
January 22, 2014
Prior to the conclusion of the fall semester, Gov. Scott Walker made his first official visit to Truax to sign a new state bill that allows students studying nursing to potentially enter the job force more quickly following graduation.
The signing took place in the new Health Education building at the Truax campus. This location was chosen because of the nature of the bill. With this move, nursing students will still have to complete required testing, but can do so earlier than prior to the bill signing. The bill, SB 337, allows nursing students to take their required testing for employment during their last semester of schooling instead of following completion of their program at school.
"It's nice to be in this building," Walker said. "It really fits together with what we are signing."
The move is intended to create the opportunity for nursing students to apply for jobs sooner rather than later. "The way it was before the bill signing, let's say you are in one of our Allied Health programs. You (would) need to complete the program and graduate," said Mark Lausch, dean of the school of Health Education at Madison College. "Then, you can go ahead and start the process to register for or make an appointment for taking a national board exam or a licensure exam."
College officials said they not only looked at this as a win for students, but as a momentous occasion for the college, especially on the heels of the new Health building opening last fall.
"It's exciting, I think, for everyone," Lausch said. "The first words that came out of my mouth when I talked with our board members was that this was a moment of pride because many of us put thousands and thousands of hours to planning and research of this building. We're excited that the governor picked this building (for the bill signing). It's just a good feeling overall."
The visit to Madison College came on the heels of a tour of the state, Walker said, that included going to other colleges in the state.
"To put it into context, it has been nice the last two weeks we've been traveling the state," Walker said. "We've been at other technical colleges across the state really highlighting a number of initiatives we're signing into law during this 2-2 ½ week period leading up to Christmas that highlight the work that we're doing promoting better worker training opportunity."
It was bills like SB 337 that further promote his job creation focus during his term as governor, he said.
"Really, not only about training and higher education, but to the fill the jobs that not only open the door today, but I think to make a stellar case for employers to grow and take on more work and create more work going forward."
SB 337 was just one of the bills signed by Walker on his December tour of the state.  Walker also signed a bill at Nicolet College in Rhinelander on Dec. 18, which created more youth apprenticeship grants.