World Student Association unites students from many backgrounds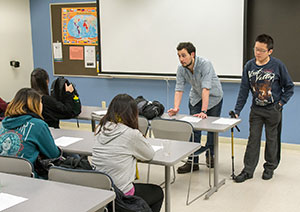 Karen Cass, Opinion Editor
December 11, 2013
The World Student Association allows for students, both local and those with an international background, to socialize and participate in cultural events on campus.
"Every student is an unique ambassador of their own country," said Tariq Anjum, WSA president.
Nearly 140 international students are enrolled at Madison College this semester, and all of them are members of the World Student Association. They represent 46 countries.
Anjum said when American students interact with international students they get a feel for the international students' countries. Americans may already know basic facts about other nations or have formed perceptions based on what they have seen in the media, but actually interacting with international students provides an opportunity to learn about different cultures.
During the Fall 2013 semester, World Students Association participated in International Education Week Nov. 11-15. The club hosted Free Coffee Tasting From Around the World. It also offered a language station and Chinese calligraphy and origami lessons.
The World Students Association's main event each school year is the Global Showcase, which is held in the spring. The annual Global Showcase includes food, fashion, dance and music from cultures around the world.
In addition to the Global Showcase, the club hopes to hold multiple events during the spring semester. Anjum said the club is considering organizing a film series where international students will present movies from their respective countries.
"American students can see what it is like to be in another country," he said.
Anjum added he would also like to hold field trips to get international students off campus.
"I'd like to help them integrate," he said.
World Students Association is open to all students. Each international student is automatically a member, and American students are encouraged to join as well.
"Anyone can join the club. It's all about interaction," Anjum said. "We really encourage locals to join."
Students interested in joining World Students Association may contact the club via The LINK or via email at [email protected] WSA can also be contacted via Facebook and can be found at the site by searching Madison College Students Association. World Students Association meets every Friday at 2:30 p.m. in room C1450.