Ford works to bring hybrid and electric technology to America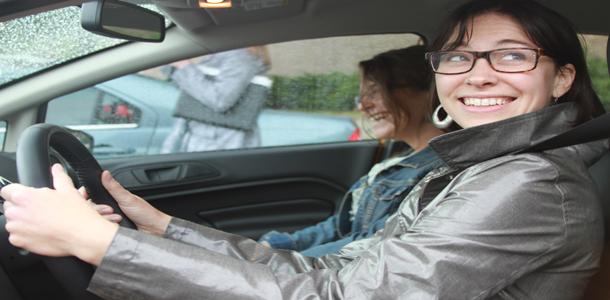 Branden Kerr, Clarion Media Editor
October 12, 2011
On Sept. 29, Ford Motor Company representatives visited Madison Area Technical College on their "Power of Choice Tour." Ford reps were on hand to give students and local residents a presentation and hands-on look at their fuel-efficient and electric vehicle lineup.
Gil Portalatin, Ford's Hybrid and Battery Electric Vehicle Systems Application Manager, provided localized research from Madison, Wis.
Among the more interesting results of the survey, 47 percent of respondents said that fuel efficiency was the number one factor when considering a new car purchase.
In contrast, the majority of those surveyed also said that gas prices would have to reach five dollars per gallon before they would consider purchasing a hybrid vehicle. The Focus electric vehicle, due out later this year, will be able to completely charge its batteries for only $4.
One of the highlights of the push for electric and green vehicles at Ford has been the jobs created in a struggling U.S. economy. Portalatin told audience members that battery, transmission and engine production for all hybrid and electric vehicles is now done in the United States.
Portalatin then regaled the conference room with a story from the development days of the Focus Electric. He told the room that he was driving a prototype home from work one day and as traffic stopped he realized that there was almost no sound at all coming from his vehicle. The motor was quiet. The exhaust was quiet.
"How nice would it be if every vehicle was electric?" Portalatin said. "You would literally be able to hear the birds chirping."
According to numbers provided by Ford during their presentation, there are currently 150,000 hybrid or electric Ford vehicles on the road in the United States.
During the ride and drive portion of the event, participants were given the opportunity to experience five of Ford's most fuel efficient vehicles (Transit Connect Electric, Fiesta, Explorer with EcoBoost, Fusion Hybrid and Focus Electric).
Jessie Lerner, who works for the Madison non-profit, Sustain Dane, took the opportunity to check out the Ford Fiesta. After her test drive, she said that there is currently only one car in her household but if they were to purchase another, it would definitely be an electric.
Automotive Technology students from the college also got an opportunity to participate in the ride and drive, many of them opening the hoods of the vehicles to see exactly how they worked.
Ford is also looking to become more involved in the growing smartphone market by creating the "My Ford Mobile App." This application will be available on all smartphones and will allow the user to control many of the basic functions of their electric vehicle.
For example, if an owner were to wake up on a cold, snowy Wisconsin morning, they could launch their mobile app and use it to warm up their vehicle prior to heading outside for their commute.
Among some of the other features included in the app will be the ability to schedule start and stop charging, check the charge status and plan trips according to the current charge of the vehicle.
When asked what the next generation of technology will bring to the market, Portalatin was coy, allowing only that his team was already hard at work on the next big thing.
By the end of 2012, Ford will have one vehicle in each of the electric/hybrid categories.
Portalatin has worked at Ford for more than 25 years and even owns a 1969 Shelby GT Mustang. When asked how he balances his love for combustion motors with his work in hybrid systems he said that he admires the engineering in both areas, despite their separate uses.
This was one of the first stops on a tour that is scheduled to include more than 70 stops across the U.S. and will feature the entire range of electric and hybrid vehicles in the Ford lineup.
For more information on the hybrid and electric technology offered by Ford, visit www.ford.com/technology/electric.