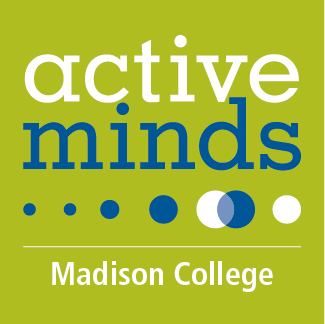 The Madison College Chapter of Active Minds is a peer-led club dedicated to expanding mental health awareness and providing workshops, group activities, education and conversion about mental health and well-being. The first meeting is on Nov. 30 from 12:00 p.m. to 1:30 p.m. in Truax room C2426. 
The meeting will cover self-care, with attendees filling a jar with self-care ideas. In addition, members will plan future events and share ways to get involved. You do not have to be a member to attend.  
Formed from the collaboration of Phi Theta Kappa and Dr. Tim Casper, Executive Vice President, Student Affairs, the club was implemented to create a community of peers guiding one another in facing challenging issues.
Student Life Director Renne Alfano and Project & Process Coordinator Marty Crabbs are the club's advisers. 
Story continues below advertisement
The goals of Active Minds are three-fold:  
Personal Development. It provides personal and professional development training opportunities to promote positive mental health and well-being.  
Reduce Stigma. It works to reduce stigmas about utilizing mental health resources.  
Promote awareness. It promotes awareness of mental health and well-being resources for students.   
Some of our meetings will include:  
Yoga

 

Group skills presentations 

 

Suicide prevention programs 

Mindfulness mediation and breath workshops 

 

Group events, especially outdoors

 

Seminars on mental health topics

 

Journaling prompts

 

Book Club or game challenges

 

Professional speakers or lecturers

 

Resource awareness campaigns.

 
Club members are proud of their community of student-peers committed to promoting positive mental health and well-being.   
"Mental health is a huge issue. It's part of everything. To me, it's essential to talk about it and not keep things bottled up," said Active Minds President Barbara Bahr. "And help each other because if you have mental health, then you are struggling for yourself and [need to] get the help you need."   
Bahr said the club's programs also include suicide awareness and destigmatizing asking for help.  
While Madison College has abundant resources like mental health counseling and Better Minds, Active Minds sees itself as students helping students.  
"Active Minds found that students are more likely to reach out to another student before reaching out to a counselor," Bahr said. 
She said that students don't need to struggle alone, and they can reach out for help.   
"Sometimes we all need help. So, being a part of bringing that awareness to Madison College and making it a topic that we can just freely talk about. How cool would that be?" Bahr said.