United Common Ground (UCG) is hosting a Diwali celebration next week Tuesday, Nov. 14 from 11:00 a.m.–2:00 p.m. in Room C1430 of the Intercultural Exchange (IE) on the Madison College Truax Campus. The event programming scheduled includes a cultural exploration of Indian cuisines, a fashion display of traditional Indian attires and a photo booth to capture all the fun memories to be made.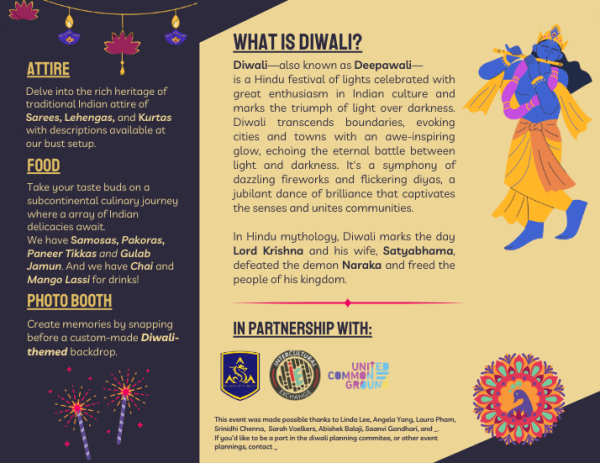 Diwali (also known as Deepawali) is the Hindu festival of lights which pays tribute to religious tradition and honors the story of deities, like Lord Krishna and his wife, Satyabhama, who defeated the demon Naraka and freed the people of his kingdom. There are many stories that ultimately center on themes related to the triumph of good over evil, light over darkness and knowledge over ignorance.  
The event will feature an array of Indian delicacies including samosas, pakoras, paneer tikkas and gulab jamun, which will be accompanied with chai and mango lassi for beverages.  
Story continues below advertisement
UCG will be hosting this event in collaboration with IE, the Center for International Education (CIE) and Asian American Student Association (AASA).
Diwali is a lunar-based holiday, which is observed on the 15th day of Kartik, so the date changes each year. The actual date for the 2023 year is on Sunday, November 12.