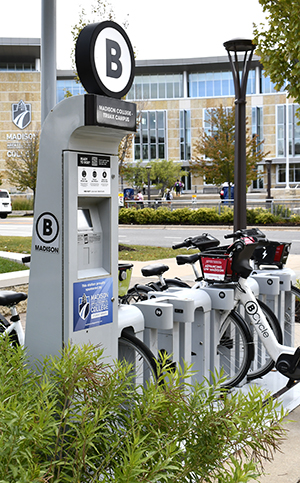 If you are looking for a more environmentally friendly and healthy way of transportation, look no further than at BCycle's electric bikes.
Right outside the Health building on the Truax campus, there sits a station of electric bikes for any student or staff willing to ride them. BCycle, an electric bicycle company owns these dock stations. They provide bike stations all over the city of Madison, and for only $5, you can get a joyful ride for 30 minutes.
The bikes are available whenever a person needs or wants to rent the bike. BCycle also promotes to people that it is economically efficient and allows people to conveniently avoid road congestion, parking problems and reduction in pollution.
The e-bikes work by checking in and out of the existing docks after you pay at the pay station. The power in the bike gives a boost to the person riding every time they pedal, taking them faster and easier to their destination. The bikes have gained a large amount of popularity in the last few years.
Story continues below advertisement
Jackie Dahlke, the transportation program analyst who works for the college, says the BCycle e-bikes have seen a lot more activity since the beginning of the pandemic, "You know, during the pandemic not a lot of people were able to do things. So, a lot of people went outside and started using the bikes more."
Not only are they popular, but what's also more is that the e-bikes are very affordable for any college student or staff in Madison, where an annual pass is only $30 (prices rise to $65 after Sept. 30), compared to the average cost of $135 for a regular person. The monthly pass is $25.
Moreover, BCycle also likes to use art bikes and promotional art pieces on the e-bikes for non-profit organizations. Madison College, for a fact, has 25 decorated bikes with the college logo on the basket; the Marketing department artistically made the logos for the art bikes.
"When you see them, it makes you smile. It stands out, it's playful, and it's colorful," Dahlke said.
To get an affordable, healthy, and convenient sort of transportation, look to BCycle to get to your destination.
Also, wear a helmet.