Yesterday, for the first time, I baked a roll from scratch. At 56 years old that is saying something, especially since my last few batches doubled as hockey pucks.
In the past two weeks, I've tasted 16 varieties of chocolate. You might wonder why there are so many, but my instructor says a good baker has a wide knowledge of ingredients, including the varieties of chocolate.
I also have had the opportunity to pipe 200 buttercream stars, covering a 5-inch cake pan, later transforming them into "nested" stars. Curious about "nested stars"? Stop by our cake decorating lab and find out.
The Madison College Baking & Decorative Arts is a gem of a program. Enthusiastic and knowledgeable instructors share that passion with gusto. In addition to their education and credentials, their collective industry experience totals 120 years. Chefs in the truest sense of the word have high expectations, beginning with professionalism.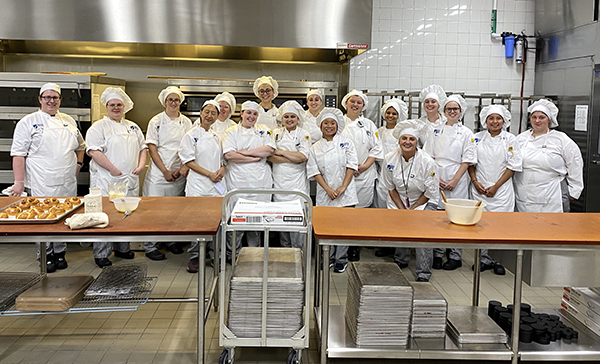 This starts with the uniform each student is expected to wear. The outfit projects expertise in the long tradition of professional kitchens. There is also a sanitation aspect to the garb, with the white uniform giving the students confidence. And what is not to love about that quintessential flat-top hat?
The facilities are breathtaking and organized, with forethought and planning to create baking classrooms that are functional, safe and inspirational. The "pride of place" as you walk into each of the labs is evident from the organization and cleanliness to the warm butcher block and state-of-the-art equipment.
The Baking & Decorative Arts technical diploma program, straight from the Madison College's website, outlines that with full-time attendance, the program runs for one full school year. The program provides practical and theoretical training on baking from scratch, cake decorating, sugar and chocolate work, and other bakery-related training. Working in the campus bakery gives students the unique opportunity to gain real-world merchandising and sales training.
In addition, the program is approved by the Retail Bakers of America (RBA) and the American Culinary Federation (ACF). "Upon completion of the program combined with 1,000 hours of work experience in the baking industry, students can take the RBA's Certified Journey Baker written exam. This is the beginning level of certification leading up to a Master Baker qualification."
Madison College provides affordable access to skilled-labor training, as well as pathways to continue it. With the current cost, attending a quality college might seem out of reach for many high-school graduates. What a comfort that Madison College offers access to many in the community.
How grateful I am to join the 17 young and fun-loving group of diverse students making up the 2023-2024 Baking and Decorative Arts class. We are fortunate to be taught and led by these three incredible instructors. Stop by the campus bakery, which is soon to be open, to sample a variety of bakery items our class will produce this year.
Story continues below advertisement