Dave's Hot Chicken a new option on Madison's east side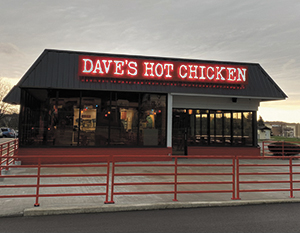 Dave's Hot Chicken has recently exploded across America. Dave's was founded in Los Angeles in 2017 with only one location. Now with over 100 locations, Dave's is trying to take over the fast-food chicken game.
Dave's menu is simple –chicken tenders. Their menu consists of four main items: two tenders with fries for $11.99, two sliders with fries for $13.99, one tender and one slider with fries for $12.99 and one slider with fries for $9.99. Their tenders range in spice level from no spice all the way to reaper, which is just as spicy as it sounds. With such a small menu, they are able to focus on one main item to maintain the quality.
So why is Dave's growing so fast across the country? The answer is simple, it's really good chicken. The tenders are hot, juicy and very well-seasoned, and they have spice levels for people who don't really care for spice. The sliders are to die for. They are served with a kale slaw, pickles and their signature "Dave's Sauce," which is one of the best sauces I have ever tried. You can also argue that their fries are some of the best fast-food fries out there.
Dave's has quite a few competitors in the Madison area when it comes to fast food chicken. There is Chick-fil-a, Popeyes and Raising Canes. Would I give Dave's the top step on the podium? No. Dave's would come in in second place behind Chick-fil-a. Dave's menu is quite expensive for what you are getting and the menu is very limited. There is no denying the food is wonderful, there are just a few things that could make it better.
For anyone who likes chicken, trying Dave's Hot Chicken is a must!