Get your fill of soft pretzels at Stoughton's Viking Brew Pub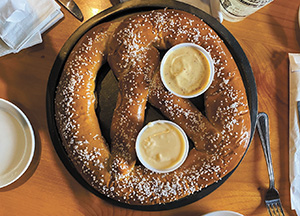 Soft pretzels are a food that is hard to master. It's very hard to find an exceptional soft pretzel. Normally you get one that's hard as a rock or just a flat-out boring pretzel. But the Viking Brew Pub in Stoughton has aced the soft pretzel.
If you are a fan of soft pretzels, Viking Brew Pub in Stoughton, Wis. is a must-stop place. They serve up a massive soft pretzel that is cooked to perfection. Viking Brew Pub claims it serves four people, which is an understatement.
This soft pretzel has everything a great soft pretzel should have. A lot of salt, a lot of butter and good dipping sauces. It is served with Viking Brew Pub's signature "Soot in My Eye" beer cheese sauce, which is fabulous, and a honey mustard that is out of this world.
The soft pretzel is perfectly cooked. It is fluffy on the inside and cuts like a hot knife through butter.
Soft pretzel aficionado Holly Fry says, "I have never had a soft pretzel this soft; it practically melts in your mouth."
Overall, this is one of the best soft pretzels I have ever had. It checked all of the boxes of what I look for in a soft pretzel. Soft, salty, buttery. Nailed everything to perfection. I would give the Viking Brew Pub soft pretzel an overall rating of 9.5/10. It will be very difficult to find a better soft pretzel.
To all soft pretzel lovers, if you are in the Madison area, you should make the trip to Stoughton to try the soft pretzel at Viking Brew Pub!