At your mental capacity? Try the Headspace App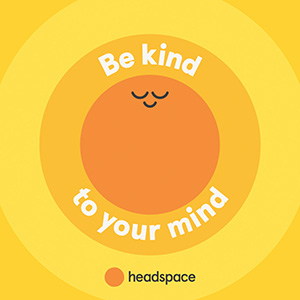 There is no shortage of reasons why college students often experience stress and depression, leading to mental health issues. Adjusting to college can be stressful, especially for first-year students, from a packed academic schedule to struggling to adapt to a new environment.
The good news is that there has never been a better time to seek help with mental health.
We can access mental health apps such as Headspace thanks to the digital age. This app, which is normally $12.99, is available for free through the Madison College Recreation app. Headspace advertises itself as meditation made simple. Audio and video clips teach life and self-awareness skills in just a few minutes daily.
The Headspace app centers its theme around meditation. Meditation is nothing new, and it has been around since 1500 BC. The oldest written documentation from that time in India, Dhyana or Jhana is referenced as the training of the mind, often interpreted as meditation.
Meditators strive to connect with their body in every activity and moment, where they become mindful of how their emotions influence their behavior.
The Headspace menu bar has four categories you can toggle between: Meditate, Sleep, Move and Focus.
Meditate
Meditation courses are guided meditations centered around different topics: grief, inspiring creativity, boosting confidence and finding focus.
Sleep
A common reason people turn to meditation is that they have trouble sleeping.
The sleep courses include relaxing guided sessions and Sleepcasts, 45 to 55 minutes featuring audio tours of fictional realms coupled with white noise. The sleep offering also consists of a sleep radio with more than eight hours of rain, ocean or music sounds.
Move
A new offering to Headspace is "Move." Offering low to medium-impact workouts that are 10 to 30 minutes long, it focuses on the mind-body connection.
Coached by Olympians Kim Glass and Leon Taylor, these sessions encourage breathing, reevaluating anxiety and mindfulness through either yoga or cardio workouts.
Focus
The Focus tab offers selected music and meditation playlists to help you focus on the tasks in front of you. The playlists feature artists like John Legend and Tina Guo, the composer of "Inception" and "Wonder Woman." Some playlists feature ambient music and lo-fi beats, while others contain soundscapes like thunderstorms and cinematic themes.
As a whole, much of Headspace's content works, especially the Sleep, Move and Focus tabs offer various actionable steps to help user's needs.
It is the meditation classes that can be overhauled. While they offer variety, many users say the number of clips can complicate it. Using the meditation tab involves a lot of scrolling and toggling, and I noticed many similar meditation scripts.
For example, the app uses the theme of "letting go" in several meditation clips, all with different themes and titles.
Also, the courses are offered at various speeds, like five or nine minutes. Yet when I tried to speed up the course, it was still playing at the same rate. So there are a couple of glitches that Headspace creators need to address.
Overall Headspace is still outstanding for moving, sleeping and focusing. Through audio tours, video, animation or playlists, it provides practical and specific steps to help users navigate life stressors.