Scavenger hunts, secret passageways and adventure found at Wizard Quest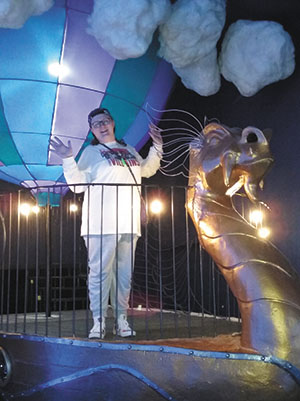 If you're like most people, you probably have gone to Wisconsin Dells at least once in your life. Like most tourist areas there are plenty of T-shirt shops, arcades, waterparks, large hotels and other attractions. However, one of these attractions sticks out to me because of how unique it is compared to everything else. This attraction is known as Wizard Quest! Located on the 400 block of Broadway, WQ takes up the entire block and is a three-story building that is part scavenger hunt and part escape room.
When you first enter, you are greeted by a tavern-like lobby that plays a video explaining how to play the game. After the cashier explains further directions, you are given a tablet and a magic torch (a UV flashlight). Taking your important items, you go through a door that looks like something out of "The Hobbit," entering what is called the Crossroads. Another video explains further your mission: find Quest Givers (characters with tablets in front of them) and aid them with their plight. The sixteen characters are spread throughout the four realms of Air, Fire, Earth and Water. As a player you can decide what realm to enter and what character to start with.
Each realm is themed to its element very nicely. There are clouds in Air, plastic bubbles suspended from the ceiling in Water, flickering lights in Fire and winding trees in Earth. You can easily tell which realm you, the player, are a part of. The building is so full of immersive art, you might forget to play! Each realm also has at least four or five Quest Givers to choose from in the two-hour play time. All the characters range in difficulty, time, distance and challenges you may face along the way as well.
If this doesn't catch your eye just yet, let me tell you about the secrets within the game. The UV flashlight reveals clues for six of the quests and they are hidden all over the building. Wizard Quest also has several secret passages (of course I won't tell you where they are, otherwise, it wouldn't be much of a secret) spread throughout.
After your adventure, you turn in the tablet and flashlight before arriving in the gift shop that looks like a Village Market. They offer a variety of costumes, props, fairy statues, dragon statues and other fantasy themed items. If you like the Village, try the shops in the courtyard. There's a sock shop, a boutique, an up-and-coming bagel shop as well as an ice cream store.
I find Wizard Quest very fun. It's a place that you can keep coming back to, especially since they keep expanding. They also offer a combo ticket with Ripley's Believe It or Not, if that is sort of your thing. So, the next time you visit the Dells, you should give Wizard Quest a go!