Rock orchestra show defies a description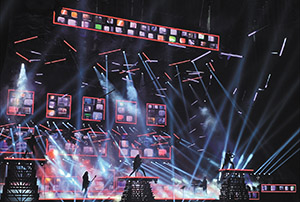 The Trans-Siberian Orchestra is a rock band founded in 1996 by Paul O'Neill. The group now has 1 million monthly listeners on Spotify and its biggest hit is "Christmas Eve/Sarajevo 12/24."
Trans-Siberian Orchestra has toured every year since 1999, which is 23 years. They always tour in November and December.
Recently I got to experience one of their shows in Green Bay at the Resch Center. The team that performed was East Coast, which consisted of violinist Roddy Chong, guitarists Joel Hoeksra and Chris Caffrey, bassist Tony Dickinson, singer and dancer Natalya Rose, singer GabrieLa and so many more.
The Trans-Siberian East Team was phenomenal. The stage presence was there; they had lasers, fire, fog, strobe lights and two stages!!
Putting the show into words doesn't do it justice; there just aren't words to describe how amazing they are. I spent a week trying to figure out how to describe it, and I can't think of anything other than phenomenal.
O'Neill takes pride in being "as over the top as we can make it." He once said, "There's no second-class seats at a Trans-Siberian Orchestra show. I want people to walk out of our shows speechless and still not believing what they have seen was possible."
Honestly, I believe him because I still don't believe what they did at their Green Bay show was even possible.