18th century cuisine: Beef Fricando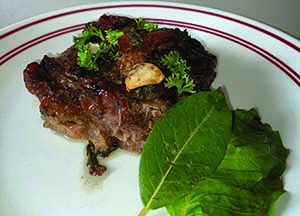 Originally published in "The Universal Cook," written by Francis Collingwood and John Woollams in 1792, this antique recipe's undescriptive instructions will surely test your creativity.
"A Fricando of Beef", recipe as written 216 years ago, unedited:
"Take one or more pieces of beef, of what size you please, and lard them with coarse pieces of bacon seasoned with spices. Boil it in broth with a little white wine, a bundle of parsley and sweet herbs, a clove of garlic, shalots, four cloves, whole pepper and some salt. When it is tender, skim the sauce well, strain it and reduce it to a glaze, with which you may glaze the larded side, and send it up to table on what stewed herbs you please."
There is a lack of exact measurements for most ingredients, which is common throughout all cookbooks of the 18th and early 19th centuries. A bit of interpretation and research is needed from the get-go.
The author does not recommend a specific cut of beef, so the best option is whatever is available to you. In my case, a two-pound English roast, cut into fourths.
Larding, the second step of this recipe, means to pierce the beef and insert lard or bacon into the crevices, adding fat and succulence to leaner cuts of meat. Traditionally, this process would make use of a larding needle, but it may be done by cutting with a sharp knife and manually weaving the bacon through the meat. My roast had fair marbling, so I was not concerned with the fat content, but I inserted one small strip of bacon seasoned with black pepper through each piece of meat for the sake of authenticity.
Since the recipe has no mention of seasoning the meat prior to cooking, I applied the salt and whole black peppercorns directly onto the meat before putting the pieces into a Dutch oven. Although it is common in the modern age, I did not grind the peppercorns. In the liquid mixture, any white wine will do, cheap or pricey.
I used chicken broth and white wine in about a 3:1 ratio, enough to rise halfway on the meat.
The hardest part in deciphering this recipe is the mention of "sweet herbs," because there's quite a few options. To keep things simple, I went with a bay leaf, two sprigs of thyme, a few basil leaves and the parsley mentioned later in the recipe. Resisting the urge to buy dried or ground spices is crucial in this recipe, which relies on the hearty taste of fresh ingredients. When combined with the cloves, two sliced shallots and a peeled clove of garlic, the dish will pop with an immaculate earthy flavor.
Although the recipe called for boiling, I put the dish into an oven at 350 degrees to braise for three hours, which created a slow simmer at most. There are many variables when braising a roast, so it's better to cook until tender than to rely on a designated time.
When I first opened the oven door hours later, the air was filled with a magnificent and complex aroma. The sweetness of the wine paired well with the fresh scent of the herbs, not to mention the strip of bacon I forgot I had inserted in piece.
After straining, the glaze tops everything off, which also works well as a thin sauce to spoon over the meat. The final product is utter perfection.
"Fricando" may not be a term seen often in modern cookbooks, along with recipes for beef tongue and pigeon stew (which can be found farther in the book). However, there is still gold in every cookbook no matter the age. "The Universal Cook" is available for free online through the Google Books app and website.