Read about Carrie Halls' life living with PKU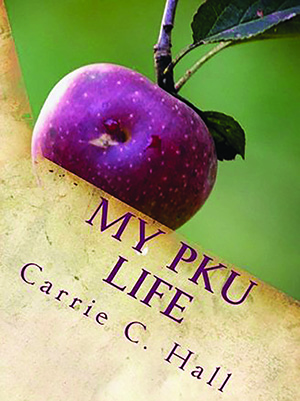 "My PKU Life" written by Carrie C. Hall is a true story on her trials and tribulations living with the metabolic condition known as phenylketonuria, otherwise known as PKU.
PKU is a very rare metabolic condition that affects one in every 10,000 newborns every year within the United States. Anyone with PKU lacks the ability to break down an essential amino acid within the liver. Individuals with PKU cannot digest protein, making dietary choices very difficult. There are several different types of this condition, some being more severe than others. Someone with PKU cannot have meat, dairy, grains, seafood, nuts, soy or alternative milk derivatives.
Carrie's book is a lifesaver to people of all ages struggling with this lifelong condition. There is no cure at this point in time. The book focuses on trying to maintain a low-protein diet despite temptations all around us, maternal PKU and how becoming pregnant can be very stressful and difficult. It also discusses how others respond to PKU and why explaining it to others can be very difficult.
Individuals from all over the world have written to Hall about how this book has helped them with their struggles along the journey of living with PKU. I found this book to be extremely comforting. I have had PKU since I was only six days old. I appreciate her courage in telling her story and allowing others to share in her pain so they can come together and become stronger and maybe find a cure down the line. There is something inspirational about people coming together to support a common cause or organization.
Please consider reading this book, even if you do not have the condition. This book is an inspiration to all how coming together as a community and learning how to help others even if by knowledge.