Broccoli and cheese casserole for the holiday dinner parties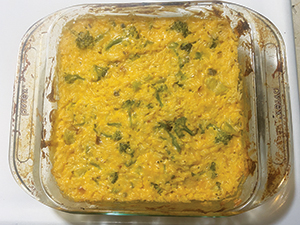 If you have been going about your holiday season without a broccoli and cheese casserole recipe, then you are missing out big time!
This hot, decadent dish has been a massive crowd pleaser at my family's table for Thanksgiving, Christmas and holiday parties for decades.
While there are multiple recipes online for this dish, I have to say, I think mine is the best. I know, I'm biased. But, I really do think it's because my family uses a secret ingredient that makes the dish standout from the rest. The secret? A jar of Cheese Whiz.
Ingredients
¼ cup of butter
⅓ cup of onion
⅓ cup of celery
1 can of cream of mushroom soup
12 oz. jar of Cheese Whiz
12 oz. of frozen broccoli
2 cups of cooked rice
Salt and pepper to taste
Directions
For this recipe you will want to cook your rice ahead of time. While the rice is cooking, saute the onion and celery in a skillet with a little olive oil for about five minutes. Cook the broccoli according to the instructions in the meantime.
After everything is complete, add the cooked ingredients to a 9 by 13 casserole dish. Now, my family members have strong opinions about this next part. Some prefer the ingredients layered and others like to mix everything together in the dish.
Personally? I enjoy both equally. But either way will work depending on your casserole preferences. Then, bake it in the oven for 20 minutes at 350 degrees.
Normally, I'm not super big on artificial or frozen ingredients, but for some reason it all works in this recipe perfectly. I have tons of requests for this and no complaints yet.
However, feel free to switch out frozen broccoli to fresh, as long as it is cooked ahead of time. You can swap out Cheese Whiz for a different cheese if you'd like but I'd highly recommend trying it this way first because in my opinion, this one ingredient really makes this recipe. However you decide to make it, I wish you a season of merriness and delicious eats.