Recipe review: Skittles don't belong in cookies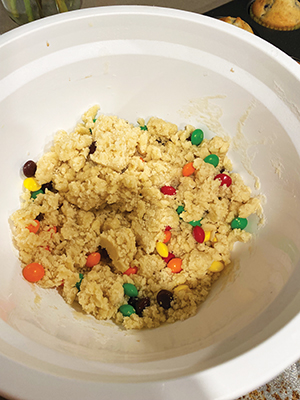 After reading Kaleia's article on why M&Ms are better than Skittles, the idea would not stop following me around. All my friends were in on the debate, and it continued for weeks. I thought about her point that Skittles just can't be in cookies. One quick Google search later, I found my recipe: Skittle Sugar Cookies. It was posted by Carol on Recipes Just 4 You.
The first thing I had to do was go buy my Skittles. When I got to the store, they were out of every type of Skittles except the big family sized bag. There were plenty of M&Ms to choose from, though. I'm not saying this makes Skittles more popular, but you can do the math for yourself. Once I had my Skittles, I headed home to bake.
The sugar cookie base was a traditional type of cookie. I had my roommate sample it for an unbiased opinion, and she agreed. It was just average dough. The final steps were adding Skittles and rolling the balls in sugar. They were hard to mix in the dough. I don't have a mixer, so I had to use a fork. It was easy enough to blend the butter and sugar, but the Skittles simply wouldn't mix in. They all wanted to clump together. I had some cookies with only one and some cookies with nine! I sorted them out so the ratios would be more even, then I popped them into the oven.
The smell and look fresh out of the oven was amazing. It smelled so sweet, and the vivid colors of the Skittles melted just a bit to create a beautiful look. They mostly kept the shape I put them in; they didn't flatten out like a chocolate chip cookie might. Even fresh out of the oven, they were hard to get off of the pan, despite it being sprayed first. The candy started to harden and stick to the pan and my spatula seconds after I took them out. It was tough to clean, but some steaming hot water did the trick.
Finally it was time to taste my creation. Not being the baker of my family, I was nervous that they would taste disgusting, but not because of the recipe's flaws. Thankfully, they tasted fine. The cookie on its own was good.
However, the Skittle was more like an obstacle, rather than a flavor booster. When you eat an M&M cookie, the chocolate adds to the cookie and blends in to create a new flavor.
The Skittle cookie didn't do that. My roommate described eating it as "eating a cookie and also cooked Skittles." They were like two separate things. They were also too sweet for me.
The sweetness of the candy was ramped up after being baked, and it was just too much for my tastebuds. Additionally, once the cookies cooled down, the Skittles got hard again. They were even more difficult to eat after that.
While I had a great time making these cookies and the recipe itself was good, I wouldn't make them again.
I'll stick to my M&M cookies, and just eat Skittles the way they were intended to be eaten: in huge handfuls straight outta the bag.
Ingredients
1/3 cups of unsalted butter at room temperature
1 egg
1/2 tsp pure vanilla extract
1/2 cups of granulated sugar
1- 1/4 cups of all purpose flour
1/2 tsp baking powder
1/4 tsp salt
1/3 cup of Skittles candy plus extra to decorate
1/4 cup of granulated sugar
Preheat the oven to 350 º F.
Directions
Whisk together the flour, baking powder and salt in a large bowl and set aside.
In the bowl of a stand mixer, cream together the butter and sugar. Mix in the egg and add the vanilla extract. Add the dry ingredients and mix well until a stiff dough forms.
Mix in 1/3 cup of Skittles candy. Place the dough in the fridge for an hour.
Take large spoonfuls of the dough and roll it into good sized balls (about 1 1/2 -2 inches. Roll the balls in granulated sugar. Add a few extra Skittles to the top of each cookie to decorate.
Place the balls on a baking sheet lined with a silicone mat. Bake in the preheated oven for 18-20 minutes, until lightly browned.
Remove with a rubber spatula to a wire rack and let cool.
Makes 15 cookies.