Madison got a smaller 'Taste' thanks to pandemic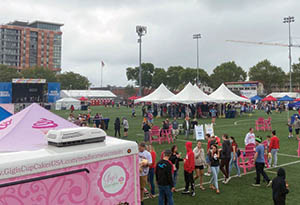 Though Taste of Madison looked different this year compared to years prior due to Covid-19, 42 food vendors still managed to create award-winning bite-sized masterpieces and live music performed by Raine Stern filled Breese Stadium on the morning of Sept. 4.
Though the weather ended up being cool and overcast, festival patrons still lined up at various food stalls to order the bite-sized samples created by some of the best restaurants in the Madison area. Multiple award-winners include Smokin' Dragon's BBQ Company, Bob's BBQ Emporium, Roll Play, Melly Mel's Catering, and Pancho's Tacos. The other award-winners were Common Pasta, Ugly Apple, Mirch Masala, Nothing Bundt Cakes, Natural Juice, Mediterranean Cafe, and Monona Bakery and Eatery.
Voice contestant and Madison native Raine Stern took the stage with her electric guitar at noon. The Alternative/Indie artist started off singing a few covers before she went in with some of her most popular hits including, "I'm Not Like Them," and "Lydia," with the latter being a sweet ode to her girlfriend. Her raspy vocals were complemented by her bandmates who played the electric piano, drums, bass, and even the saxophone. In between each song, Stern would interact with the audience by cracking a dry joke or sending out a feel good message. She ended her performance by telling onlookers to enjoy the cloudy day, which was met with a chorus of chuckles. Her next big gig and one of the last chances to see her locally will be at Summerfest, as she announced that she is planning on moving out of Madison in November.
Smokin' Dragon's, a Fitchburg based restaurant, won first place in BBQ for their brisket sliders, second place in American for their cheese curd mac 'n cheese, and second place in Southern Style for their barbeque baked beans with bacon. Their brisket sliders proved to be worth the hype as they were tender, full of flavor, and were heavily complimented by their house made barbeque sauce.
Bob's BBQ Emporium in Sauk City almost always had a line at their stall, and it's clear to see why since they won first place in Southwestern for their New Mexico Green Chili with Pork, second place in Appetizer for their chicken fried bacon, and second palace in BBQ for their Texas style brisket slider. Their chicken fried bacon was perhaps one of the most unique options offered, which proved to be quite delightful. It's hard to go wrong with the sweet and savory tangy crunch that the richly flavored food item offered.
Role Play, a small State Street restaurant, tied for first place in Asian cuisine with another State Street favorite, Mirch Masala. The winning food items were Role Play's jian bing Chinese crepes, and Mirch Masala's chicken tikka masala. Role Play also snagged first place in the Vegetarian category for their Korean Picnic Set dish.
Melly Mel's Catering, a soul food favorite in Madison, won two first place prizes. One was in Ethnic for their fried chicken and the other was in Southern Style for their cabbage and kale dish. While Melly Mel's was serving up southern fare, Pancho's Tacos was also killing it with their award-winning Mexican cuisine. Their tacos won first place for Latin American, and their elotes, corn on the cob, won second place in the vegetarian category.
Every restaurant that participated in the Taste of Madison received 100 percent of their food sales and drink vendors used the money that they made to support the charity that they are affiliated with. Even the ticket sales ended up going to charity.
While the Taste of Madison was different this year than in years prior, the turnout was good and the food still lived up to the hype. The current plan for next year is to have the festival on the square in downtown Madison, COVID-19 allowing. But if all else fails, at least we know that Taste will still be a success at Breese Stadium.