'The Nutcracker' comes to Madison
Dance Wisconsin Celebrates 43 years of The Nutcracker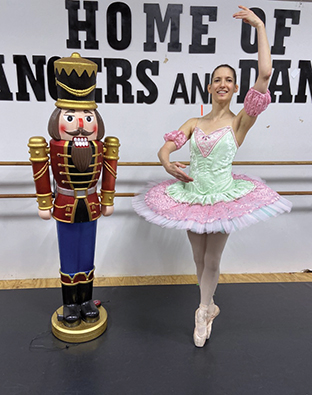 Madison, WI—This is a special year for Dance Wisconsin; JoJean Retrum is celebrating 43 years of her classic version of the original Nutcracker in Shannon Hall at the Wisconsin Union Theater. Guests from the Chicago area will dance with Snow Pas De Deux and Grand Pas de Deux in Candyland. Many alumni will dance star roles this year as Drosselmeyer, Arabian Pas de Deux, and Rose.
Sydney Bruce, a student at Madison College will be performing lead roles in the upcoming production. Ms. Bruce will be performing one of the Soldier Dolls in Act I and Marzipan and Rose in the Waltz of the Flowers in Candyland. For more information call 608-221-4535 or check out website www.dancewisconsin.com
The Tchaikovsky score will be performed by the Dance Wisconsin orchestra and conducted by Taras Nahirniak. Several pieces will be accompanied by The Monona Grove High School singers. They will be joined by the Dance Wisconsin Company and dancers from numerous southern Wisconsin studios. Many past alumni and their children have returned to perform in this wonderful holiday tradition.
The ballet begins at the home of the Silberhaus family on Christmas Eve. Friends of Clara and Fritz are invited for Christmas festivities. Clara's uncle, Herr Drosselmeyer, appears with his handsome nephew, gifts, and a special Nutcracker doll for Clara. After the party guests leave, Clara goes downstairs in search of her nutcracker and falls asleep on the sofa. Clara begins to dream that she is awakened to find herself surrounded by huge mice that wreak havoc in the parlor. The Silberhaus' Christmas tree begins to grow and Clara's Nutcracker doll comes to life and battles with the mice. After the Mouse King is slain, Clara is transported to a fantasy land where the Snow Queen and King perform for her. The spell that enchanted the Nutcracker doll is broken, and he is transformed into a handsome prince. Clara and the prince travel together to Candyland.
Performances will take place Saturday, December 14 at 2:00p.m and 7:30p.m. and Sunday, December 15 at 2:00p.m. at the Wisconsin Union Theater. Ticket prices for adults range from $22 – $40 dollars. There is a $10 discount for seniors and children. To purchase tickets visit the Wisconsin Union Theater Box Office located at 800 Langdon Street, call (608) 265-ARTS or buy online at http://www/uniontheater.wisc.edu