A cool place for a hot cup of coffee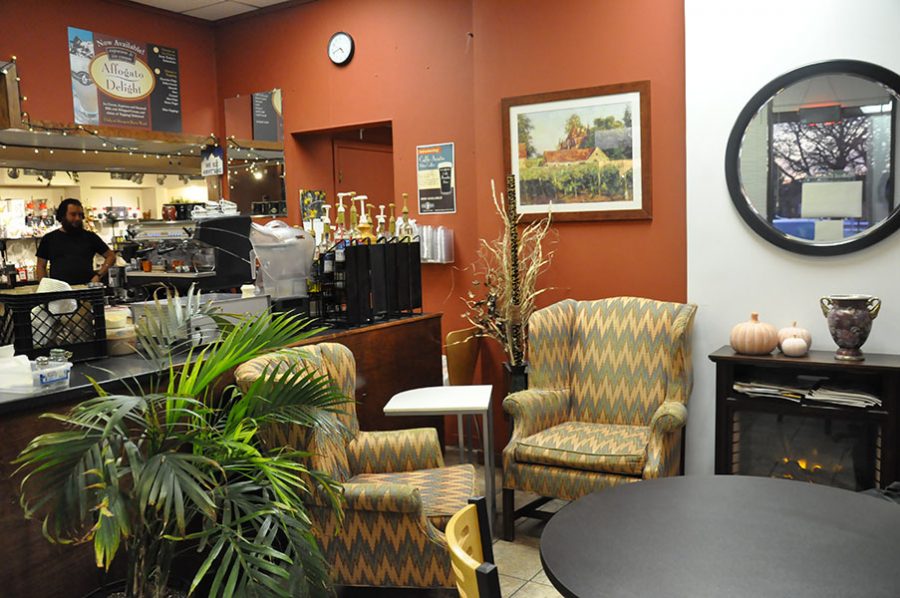 Steep & Brew is a cozy café located in the Market Square at 6656 Odana Road. The café's comfortable armchairs, decorative lights, and compact fireplace provide an inviting, comforting atmosphere for customers.
The eclectic artwork that lines the walls adds to Steep & Brew's pleasant ambiance. Along the back-left wall are shelves that showcase a variety of merchandise: coffee brewing kits, French presses, flavored syrups, mugs, Steep & Brew brand ground coffee, teacups, tea bags, and teapots. Next to the merchandise shelves is a small bookcase for those who enjoy a quick read with their cup of coffee.
Steep & Brew's drink menu offers a wide selection of coffee-based drinks, from a simple cup of the day blend to a variety of flavored espressos, lattes, frappes, and cappuccinos.
The "Steep & Brew Field Guide" located to the left of the register provides an in-depth description of their drink selection. I highly recommend the Chunky Monkey latte (a vibrant blend of cocoa, hazelnut, and banana).
For those who prefer to veer from the coffee route, Steep & Brew offers plenty of alternative options. Steep & Brew specialty drinks include ice-cream-based creations such as malts or floats, Italian and French sodas, and fresh fruit frappes. They also offer a wide selection of green, black, and iced teas.
Non-caffeinated options include the candy bar hot cocoa, regular hot cocoa, apple cider, or steamers (flavored, steamed milk).
Steep & Brew does not only offer beverages. Local vendors like Green Bush Bakery and Madison Sourdough Bakery provide a wide variety of baked goods, including streusel, donuts, danishes, scones, and cookies.
Elegant Foods contributes to Steep & Brew's collection of non-bakery items like quiche, burritos, and soup. Banana splits and ice cream sundaes are available for those who prefer a cold, sweet treat.
To increase order efficiency, Steep & Brew provides customers with the option to order carryout through the free app menufy. Customers also have the opportunity to text their carryout orders to the number 608-455-0346.
Steep & Brew is open from 6 a.m. to 7 p.m. Monday through Friday, 7 a.m. to 7 p.m. on Saturday, and 7 a.m. to 5 p.m. on Sundays.
Steep & Brew is the ideal retreat for those looking for a quiet, comfortable place to grab a beverage, a small bite to eat, or a place to work in peace. If you reside on the Westside, or you happen to be around the area, don't hesitate to stop into Steep & Brew.