Fiber Arts Club members have fun and 'sew' much more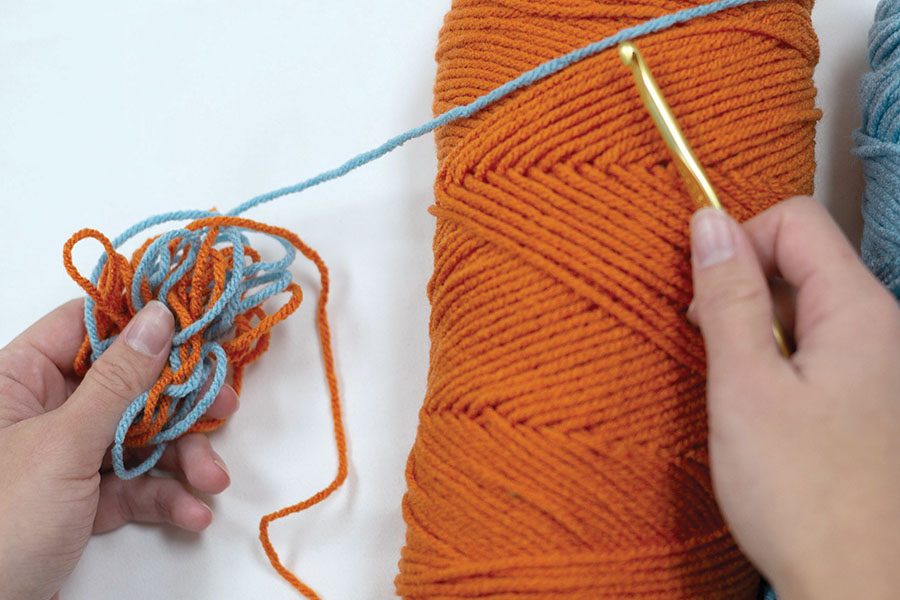 Many people think that knitting is something that your grandma does. You're not wrong, but the younger generation is starting to pick it up. The Fiber Arts Club isn't your grandma's knitting club.
The Fiber Arts Club includes arts such as knitting, crocheting, embroidery, sewing, and much more. Jessica Goerling and Vanessa Levenson are the current club treasurers that came together to decide to create this club as a way to encourage people to hang out and have fun.
Goerling was handing out flyers and asking people to sign up at Campus Fun Day.
Currently, there are around 20 people that signed up and the Fiber Arts Club is hoping to get more people interested.
Currently, the Fiber Arts Club is a safe, supportive community for people to come in, hang out and work on their own project. Having a group of people with the same interests as you allows you to make friends as well as ask questions if you need help with something your working on.
Goerling wants to be able to get funding from the school or participate in fundraisers to be able to get supplies available for people. Before getting the funding, there have to be enough people signed up and consistently going to the club.
There was a spreadsheet sent out to everyone who said they were interested to find out which day works best, and the Fiber Arts Club treasurers have decided that early afternoons on Friday.
If there is enough demand for the club, then they would be able to add another day during the week. They hope to increase the number of students who want to participate.
The Fiber Arts Club allows you to be creative in any way you want. Sometimes working on a project alone can be boring, but working on your project in the club can allow you to chat and ask opinions.
If you have any questions or interest in the Fiber Arts Club, email Jessica Goerling at [email protected]