Norwegian food close to home
Skål Public House is worth the trip to Mount Horeb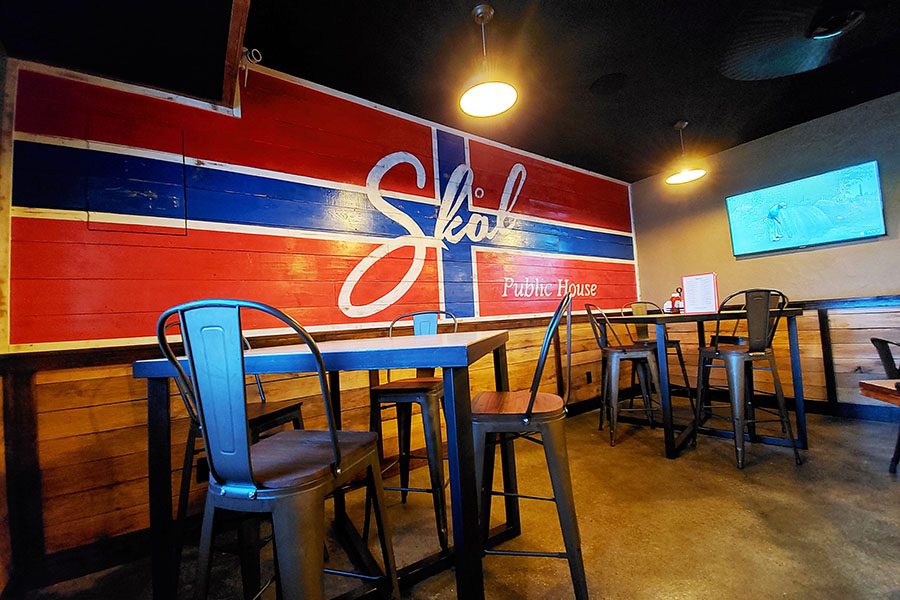 Sean Bull, Broadcast Manager
September 18, 2019
Thankfully, Skål Public House is a Norwegian restaurant in heritage only. No offense to readers who are fans of lefse and lutefisk, but I much prefer the Americanized fare of this Mount Horeb pub. Though many of the ingredients on the menu will be familiar to most Americans, each dish adds a twist that keeps it unique.
The fit and finish of the restaurant is too nice to be described as a "hole in the wall," unless you mean the phrase literally. Skål isn't big on doors. Its bar and dining area sit in open rooms, at the end of a hallway shared by other businesses. The decor is rustic, but nicely finished, as if Viking craftsmen made it from pieces carved from a longship.
The wall behind the bar sports 24 taps; each delivers a craft beer from around the nation. The tap list includes some eccentric choices like a chocolate milk stout, a beer for the coolest third grade dropout in town. That wasn't even the best option for chocolate-laced beer. I also tried a "Decadent Dark Chocolate" nitro brown ale. The name is a lot to process, but the drink itself doesn't disappoint. The chocolate flavor is bold, rich, and complements a savory entrée well.
The good thing is, you don't have to take my word for it. Skål knows that twenty-four beers can be overwhelming to choose from, so they make it easy to sample small portions. A single five-ounce beer only costs $2, or you can hand select a flight of four. That will set you back $7.50.
In contrast with the tap list, the choices of food are relatively pared down. Skål Public House is no Cheesecake Factory. Each item on the menu is there with a purpose, usually because it's the best of the best. The entire menu consists of eight appetizers, seven sandwiches, two salads, and three options for kids, affectionately called "Smaller Human Food." From those three pages, I chose the "Bistro Burger with Drunken Apple Jam."
It's never occurred to me to lay a fruit preserve atop half a pound of grilled beef, but the pairing is so natural, it's astounding this idea isn't more popular. Many restaurants work toward the same sweet and savory ideal by offering burgers with barbecue sauce, but that recipe has an inherent flaw. Barbecue sauce is too runny to sit atop a hot burger, so it inevitably makes a mess. Jam, on the other hand, is appropriately viscous. It stays where it's supposed to, all while delivering notes of apple and whiskey.
The Bistro Burger is well-constructed in another uncommon way: the bun actually holds up to being handled. Any self-respecting burger comes complete with a big, fancy bun, a "roll," if the chef feels especially pretentious. However, these buns aren't what they seem. They invariably end up being mostly air, and from the moment they're first picked up, they begin to deflate.
Within two minutes the bun will have collapsed completely, just as flat as any bun off the McDonald's dollar menu. This isn't the case at Skål. Not only was the kaiser roll delicious, it actually held a decent shape throughout my entire meal. See, Fuddrucker's, is that so hard?
For many residents of Madison proper, a trip to Skål alone may not be worth the effort to drive out to Mount Horeb.
It's about 35 miles from our Truax Campus; even the very best food won't compel most people to drive that far.
However, if you can make it part of a larger trip, it starts to make a lot more sense.
Not to shamelessly cross-promote my YouTube show, but there's a lovely park just minutes from Mount Horeb's downtown.
Really, if you're in the area for any reason, check out Skål Public House.
Though their brand recalls feasts shared by Vikings, the tastes they serve up are universal, and can be enjoyed by anyone.