Pedro's Mexican Restaurante
Authentic food and affordable fun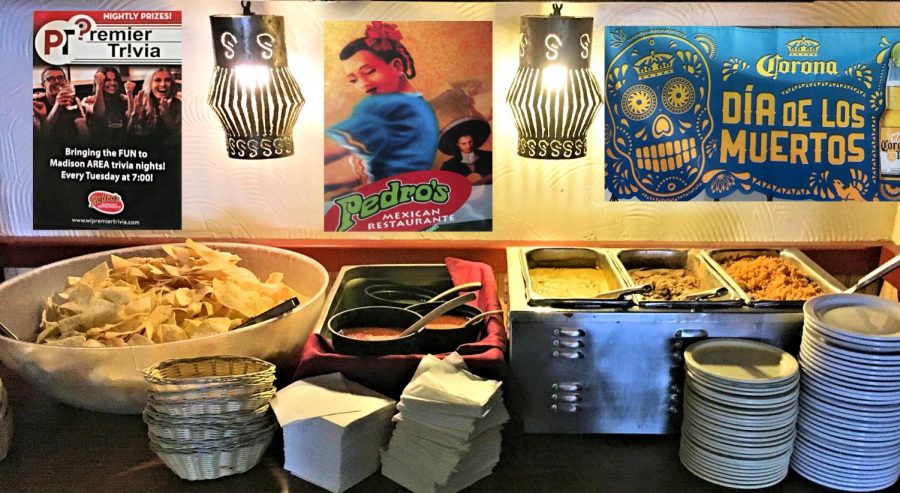 Raven Fabal, Multimedia Editor
April 23, 2019
Pedro's Mexican Restaurante is a great place, less than 2 miles from the Madison College Truax campus. The outside of this establishment is rather plain, and the parking lot even a bit run down looking, but don't let that fool you – Pedro's inside is all about congenial Mexican hospitality. Pedro's is fun and friendly, never stuffy, a balance between fine dining and casual convenience that is often hard to find.
My companion and I were greeted and shown to our table where Kurt, our knowledgeable and friendly waiter was happy to describe the dishes we were interested in and attentive without hovering.
I tried the Chihuahua Combination, which includes Chili Rellenos, a pork tamale and a chicken enchilada. Served with a side of Mexican rice and pinto beans, the platter set before me was extremely generous and nicely presented. My pork tamale was a bit dry but was stuffed with such deliciously spicy pork, cooked in corn husks, the traditional way. The tasty "Verde" sauce more than made up for the slightly dry texture.
The highlight of my meal was the Chili Rellenos; a delicious Poblano chili pepper, filled with ground beef and seasonings that were spicy, fragrant, moist and delicious, not to mention, covered in a rich cheese sauce. The Chicken enchilada was full of marinated chicken and topped with a deliciously piquant Adobo sauce.
The other entrees my companion and I sampled included Beef Chimichanga, Chicken Tamale, and Pork Enchiladas. The sides included Mexican Corn, Mexican Rice, and Pinto Beans. Without exception, everything we tried was well prepared and generously portioned.
This is not your pseudo-Mexican fast-food fare – this is Mexican cuisine that tastes like it was made in Mexico! This is partly due to the fact that Pedro's actually makes their own homemade Tortillas, as evidenced by the large, spiral tortilla press on view in the main dining area.
Jim Martine, President, and CEO was kind enough to meet with me and spoke with pride about his restaurant, which opened it's first location (there are several) here on Madison's East Side in 1981. This location is an expansive 12,000 square feet. Martine graciously invited me to a tour of the facility, showing me a variety of private areas suitable for meetings or celebrations.
The Cantina is a comfortable place to hang out, with a vibrant fiesta theme and many drink specials, fun events like Trivia nights are held starting at 7 p.m. on Tuesdays with half-priced Margaritas and drink specials all night long. Upcoming Trivia night themes include Shrek, Friends, Game of Thrones, Harry Potter and Disney.
With so much going for it, it's easy to see why Pedro's Mexican Restaurante has been a favorite for so many years. For fun, fantastic food and drinks all on a student-friendly budget, it's a win-win.