Madison Museum of Contemporary Art presents 'In The Space of Elsewhere'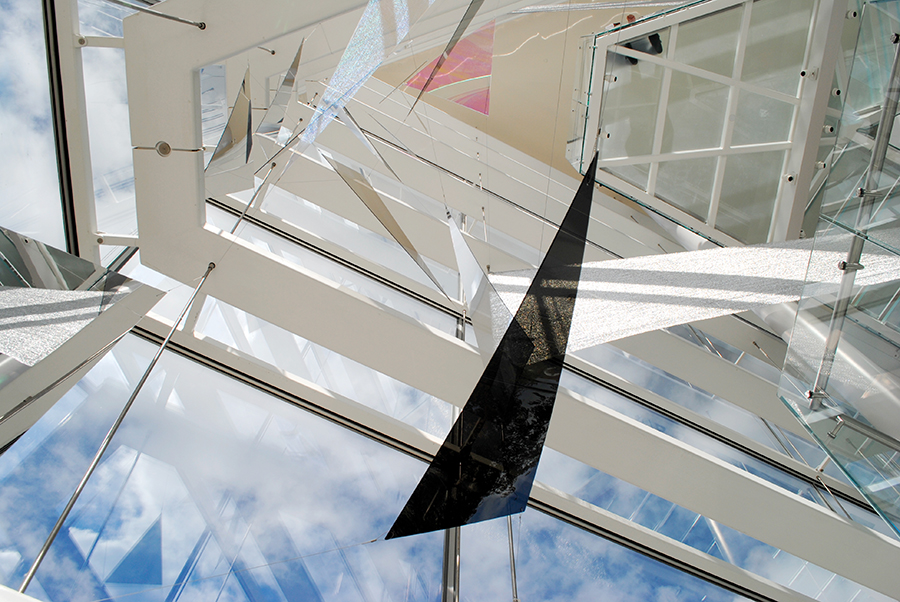 Krista Olson-Lehman, Copy Editor
September 13, 2017
Do you ever stop to notice how light plays off the objects in your environment? Artist Sonja Thomsen aims to show us the ways that light can dance and play, "in the space of elsewhere."
Her current exhibit "in the space of elsewhere" spans the length of the Madison Museum of Contemporary Art's (MMoCA) lobby, using color, photographic images, and reflective surfaces to bounce color and light about. The installation looks different as the day's light changes. From dusk to dawn, twilight, cloudy or sunny, the exhibit will have a varied look depending on the way the light is behaving when you visit.
The most striking aspect of the installation is the reflective pieces going up three floors in the museum's iconic windows. From the top floor you can look down into an array of color and light that changes with every passing cloud during the day. Mirrors, faceted items, and iridescent textiles weave around the interior of the MMoCA lobby, inviting guests to pause, look around, and look up. Instead of merely looking at something on display, the display surrounds you, inviting you to peer into it from varying angles. Each floor you ascend changes the way shapes look, and the way light and color bend.
With Thomsen's base in photography, photographic murals play heavily into the exhibit. The exhibit isn't solely the installation, however. There is also a zine available for purchase in the museum store. The zine has an interview with the artist, information about the museum installation, and some thoughts and questions from the artist herself. All are on large printed full color pieces of artwork that go hand-in-hand with the physical space. The process of creating the zine is in sync with the designing of the installation. Coming up on Sept. 16 at 2 p.m., Thomsen will be hosting a talk and workshop on the role of bookmaking in her installation practice at the Arts + Literature Laboratory, 2021 Winnebago St.
To go along with the installation, there are two performances planned with choreographers Maria Gillespie and Joelle Worm. The first will be held Sept. 29 at 7 p.m., the second follows a reception with Sonja Thomsen on Oct. 13 at 6:30 p.m. These events free to attend and admission for the exhibit as a whole is free as well, so all can enjoy the vitality of light "in the space of elsewhere."