A glimpse into a songwriter's life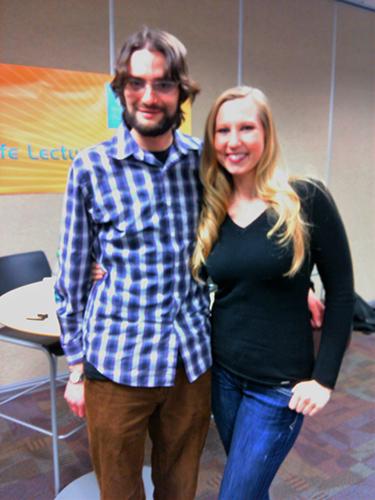 Madison – On Thursday, February 25, two local musicians sat down to talk about their lives as artists and writers as part of the Writer's Life Lecture Series. The event, the first to feature songwriters as part of the panel, drew a large crowd to one of the classrooms of the downtown Madison College campus. Accompanied by Professor Larry Hansen, songwriters Lo Marie and Kyle Rightley led an entertaining and informative discussion about both the process of actually writing a song as well as offering an insight into their respective journeys as musicians. The two also answered questions from the highly enthused audience.
Marie, an internationally known jazz singer, credits her ability to write a good song to her strict routine, saying, "(I set) the environment… no distractions. Phone goes off, no internet – This is time to write!" It shows in the lyrics of her songs. Performing an original tune entitled "Waiting On Clarity", Marie impressed with not only her skills strumming acoustic guitar but with her elegant voice and poetic words as well.
Rightley, a multi-genre classically trained musician, also discussed the importance of lyrics in a song. He attributes his inspiration for his creative lyrics to both internal forces such as a desire to address an issue or tell a story and external forces, like someone else's life. For example, the inspiration for his song "Audrianna" came from observing a painting at the Madison Art Fair of a carpet flying through the air with children riding it.
When asked about the present environment and market in music, both acknowledged the dedication it requires to be a modern day songwriter/musician. From booking your own shows to crafting an act that stand outs and sets yourself apart from a crowd of independent musicians that is bigger than ever. Marie perhaps put it best saying, "…You're your own business."
This is the third year the Writer's Life Lecture Series and has featured a wide variety of different writers. There will be another lecture entitled, "Writing for Children", which will feature children literature authors and their individual processes. This will again be held at Madison College's downtown campus at 211 North Carroll Street on April 21 from 7:00pm to 8:00pm. It is free to the public and I encourage you all to attend.
For more information about Lo Marie and Kyle Rightley, visit their individual websites at www.lomariemusic.com or www.kylerightley.com.