Clybourne Park hits the stage March 4th
Dark and uncomfortable 'dramedy' tackles a slew of controversial issues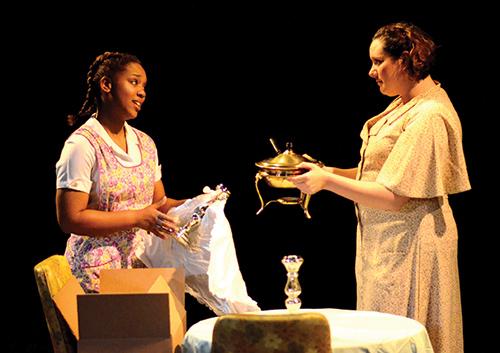 The intensive week of dress rehearsals, known as "tech week," that are part of every theatrical production began Monday, Feb. 29. A team of seven actors have been working since January under the direction of Miranda Hawk to put on "Clybourne Park," a dark and uncomfortable (but funny!) dramedy that tackles a slew of controversial issues.
Playwright Bruce Norris takes on race, gentrification, veteran's issues, disability, gender and sexuality, and housing policy, to name just a few. The play in two acts premiered in 2010 and won the 2011 Pulitzer Prize for Drama and 2012 Tony Award for Best Play. "Clybourne Park" is a response to Lorraine Hansberry's classic work "A Raisin in the Sun." "A Raisin in the Sun" tells the story of black family trying to move into a white neighborhood in 1959.
The first act of "Clybourne" tells another side of the story. Russ and Bev Stoller are the previous homeowners, preparing to move out of "solidly middle-class" Clybourne Park. Their move is in response to a recent tragedy involving their son, Kenneth, who had served in the recent Korean War.
Karl Lindner, who also made an appearance at the end of "A Raisin in the Sun," pays Russ and Bev. He warns them that a "colored" family is buying the house, and begs the Stollers not to sell for the good of the community. The argument that ensues drags in the local pastor Jim as well as Bev's maid Francine and her husband Albert, both of whom are black. Karl's very pregnant wife Betsy is deaf and struggles to follow the conflict.
In Act Two everything is flipped. It is now 2009 and the neighborhood is predominantly black. Steve and Lindsey (played by Nick Kaprelian and Emily Rockwell, who were Karl and Betsy in Act One) are trying to move in. They want to tear down the old house "start from scratch" building a house "a full 15 feet taller than the adjacent structures." Lena and Kevin (Brieann Robbins and Reggie Kellum, who also play Francine and Albert) have brought forward a petition objecting to the oversized structure. The legal negotiation devolves as each party starts trying to dig into what the other side "really means."
The two acts are distant enough from each other that either one could be a play unto itself. However, placing them together provides the opportunity to see the similarities and differences between the world of 1959 and 2009. Racism still exists, and people are still people, but one of the differences is the level of swearing in each act.
In Act One, only one character swears, and only because he is under great emotional stress. In Act Two, however, almost everyone swears casually, the dialogue seasoned lightly with "sh-ts" and "f-cks." It is only at the end when the dreaded "c-word" is pulled out that the characters are truly upset by profanity.
While audiences should be prepared for strong language, that is hardly the most notable aspect of the show. What is far more important is way the characters interact. How they talk to and treat each other reveals far more about the characters and about the imperfections in all people than which cuss words are used.
"In response to the difficult topics raised in the play, Madison College Performing Arts will be partnering with Madison College Street Team to host a community conversation in the Mitby Theater after the March 6 matinee. Community figures who specialize in the subjects that are key in the play will guide a group discussion on how race and the other issues of the play appear and are handled in the Madison community. Mar. 6 tickets are discount with codeword TALK. Free refreshments will be provided."
"Clybourne Park" will playing on the Mitby Stage at the Truax Campus Mar. 4-13, Fridays and Saturdays at 7:30pm, Sundays at 2:00pm. Admission is free with your OneCard, $11 General Admission, and $6 for those 21 and younger. This show is not recommended for anyone under 15 years of age, due to strong language. Search "Mitby" on madisoncollege.edu to reserve tickets.