Stephen Thompson: Fullfilling many roles
Stephen Thompson: runner, student, actor and caregiver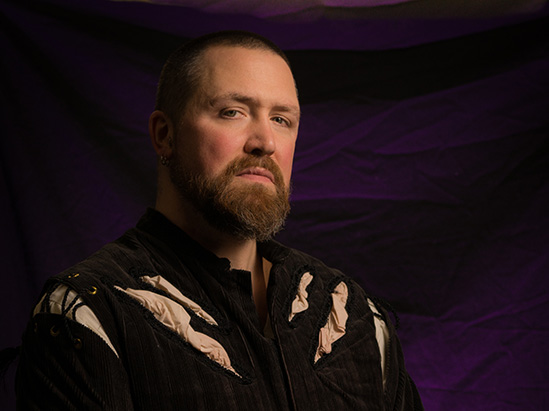 Ana Bon, Artistic Director
February 3, 2016
Stephen Thompson has many different titles – student, actor, ultra marathon runner, caregiver and friend – all because he believes in taking chances.
Thompson, a Madison College student, shared bits of his life, challenges and accomplishments during a recent interview at a local coffee shop.
Standing 6-foot, 3-inches tall, the 39-year-old Thompson is athletic and outgoing. He runs ultra marathons, loves acting and has been a caregiver for over a decade. He grew up in southern Wisconsin and has lived most of his adult life in Madison.
"I was an introvert," admitted Thompson. But thinking "yes" is how Thompson left the introvert behind. Yes, got him into running, acting and achieving things he probably never would have otherwise. "Yes, is the right word," he said.
He has run seven marathons, seven ultra marathons and is already registered for the Ice-Age 50 in May. "I genuinely think anyone can run a marathon," guaranteed Thompson.
He believes his life changed drastically since he began running. Running for him is more than just a passion or a hobby.
"Running is intricate to my health it's important as eating, it's medicine," he said.
He also said the trick is breaking it into sections. To think of running two miles, three miles, and four miles and then another four, and another four, versus saying that you have to run 50 miles. If you reach the first pole, he believes you can reach the next one, and the next one and so forth.
Thompson not only runs, he also balances acting while being a first-time college student in the liberal arts transfer program. He is submersed in his career and involved with school activities, taking leadership positions. Currently, he is the Student Activities Board representative for Performing Arts.
Having performed in the last year's production of "Romeo and Juliet," he is now co-directing "Clybourne Park." He admits it wasn't easy to start acting, but it is something he used to do as a child and helped him break out from the introverted tendencies.
For Thompson, many other things came with acting, qualities he discovered, like the craft of listening. "Everything is a moment and it's easy to miss a moment," he said.
Believing that a great amount of who he is now was influenced by those around him, he strives to influence people in a positive manner.
"Steve is one of the most honest, caring, devoted friends anyone could ask for," shared Keith Harris, an old friend of Thompson. "The one thing that has never strayed in Steve that struck me from day one, was his strength of character and moral fiber. I am sure I made plenty of fun of him as a kid for him being so mature and steadfast, but it's become one of the characteristics I look up to the most in Steve."
Thompson feels life should not only be encountered with an open mind but also with gratitude. "How can I give more than I'm taking? We are born in debt and die in debt, that's where the mindfulness takes place," he added.
For Thompson, studying social work and theatre is his way of saying thank you. With his double major, Thompson has plans to spend his life giving back to the community. And he is determined to accomplish it without fear.
"You can't be afraid to make mistakes, I don't believe in mistakes, I believe in action and reaction."