Drama students hone their craft in Milwaukee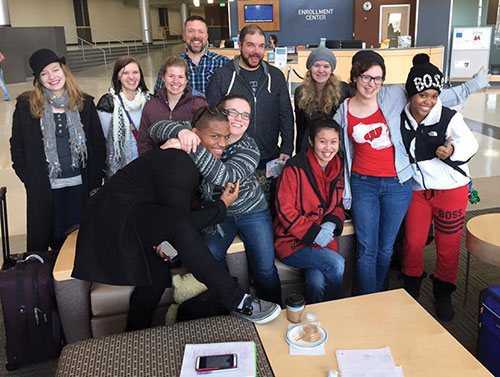 Thousands of drama enthusiasts flooded the campus of the University of Wisconsin – Milwaukee between Jan. 5-9. The halls, previously empty in the chill of winter break, buzzed as theater students of all persuasions – technical, production, and performance – bustled between workshops and performances. Two students jogged down the hallways, tossing lines back and forth as they hurriedly memorized for an impromptu performance.
The Kennedy Center American College Theater Festival draws students from all over the Midwest every year to compete, participate, and socialize. Madison College is one of a very small number of schools that pays for all travel, boarding, and registration costs for their performing arts students.
Performing arts students include anyone who participates, whether backstage or onstage, in any plays or musicals put on by the college, as well as members of the Performing Arts Leadership group and related projects.
Over the course of the five-day festival numerous schools selected by the Kennedy Center showcased their most successful productions of the past year. These shows included Oakland University's "Equus", Marquette University's "To Kill a Mockingbird", and the highly anticipated musical "Madworld" from Ball State University.
"Madworld" tells the story of Charles Dodgson, better known as Lewis Carroll, and his controversial relationships with the Liddell children the inspirations for "Alice in Wonderland". The musical won at Ball State University's Discovery New Musical Theatre Festival and made its world debut on the Ball State stage. The musical was the final performance of the festival and many students whose schools officially left earlier that day bought day passes so that they could attend the show and the following awards ceremony.
In a first for the festival, a non-collegiate show was also showcased. "QGents" by The Q Brothers, is a two-man hip-hop reimaging of William Shakespeare's "Two Gentlemen of Verona" set in a prototypical high school. Aside from being highly entertaining, the two men rushing around the stage flipping through all of the different characters with their different quirks and identifying costume pieces, the energy of the performance was supplemented by the enthusiastic audience. It is hardly surprising that a bunch of theater kids would jump on board for this crazy concept, which was exceedingly well executed.
A cornerstone event of any KC/ACTF affair is the Irene Ryan Scholarship Competition. Every time a college puts on a show a respondent from the festival is sent to observe, respond, and nominate one or two students they believe gave exceptional performances to compete for a small scholarship.
Three students were nominated from Madison College: Sadie Yi ("Romeo and Juliet"), Nick Kaprelian ("Bone Dance"), and Michaela Johnson ("Bone Dance"). Each contestant prepared two short scenes and a monologue to perform before judges and observers. Finalist of the regional competition will be invited to compete at the national level in Washington D.C.
For those not there to perform, there were scores of workshops taught by experienced faculty on every aspect of theater and performance, from "Character Voices for Media," to "Thermoplastics," to "You Want Me To Light THAT?" Workshops kept students busy, collecting new experiences like shiny nickels. They were assisted by their Guidebook apps, a recent scheduling advancement that allowed students to access festival information from their smart devices and devise their own schedules.
On the last day of the festival the winners of the myriad performing and technical competitions were announced. However, at the end of the award ceremony, when it is usually announced which school will host the next year's festival, it was revealed that the school was "to be decided."
Hosting the KC/ACTF is no small adventure in logistical finagling, and is especially difficult because many of the faculty volunteer their time and sacrifice much of their winter break to make the festival successful.
Wherever next year's festival is held, you can qualify to go by participating in one of Madison College's numerous performing arts opportunities.
The spring play, "Clybourne Park", begins rehearsals this week, and is looking for students interested in assisting backstage. The Performing Arts Leadership is seeking new members to weigh in on Madison College's performing arts future, including musical and dance performances. An improv club is soon to be introduced to the Truax campus as well.
Email Miranda Hawk – [email protected] – for more information about these opportunities.