Taste of Madison offered visitors range of tasty, affordable options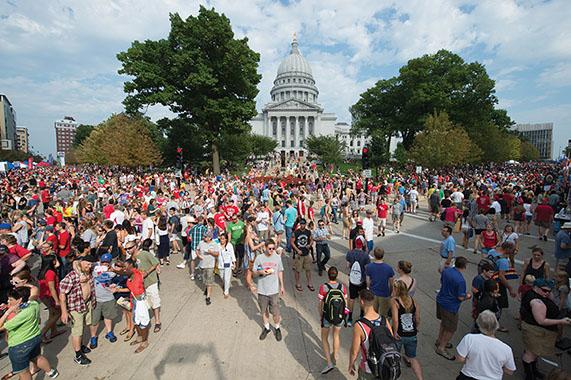 Whether it was Venezuelan sweet plantains and roasted garlic empanadas or deep-fried cookie dough, the selection at Taste of Madison was far from average. Madison hosted its 33rd annual end-of-summer food festival at Capitol Square on September 5-6. With over 90 vendors, 33 artists, and 26 beverage stands, the 2-day event was a major hit, despite the bewildering humidity and tight crowds.
"This is an event that everybody should go to," says Amanda Melo, Brazilian exchange student at the University of Wisconsin-Madison. "There was a variety of food that I didn't imagine could possibly exist!"
Roughly 250,000 people show up to this annual event to enjoy food, great music, and give back to the Madison community.
"My favorite thing about Taste of Madison was the food," said Madison College student Anahat Singh. "The food was delicious… and having food from different cultures gives us a slight insight of that place. I like the whole idea of eating food and walking."
The tasty portions were kept small and affordable, from $1-4, so that people could enjoy a wide variety from local establishments.
"Our favorite was the seafood and the Chinese selection," said Kristy Collins, who drove up from Waukesha to attend the event. "Madison is so culturally rounded, and this event really welcomes everyone from any walk of life."
In addition to the award-winning $1 falafel Banzo's or a $4 bowl of Moroccan couscous and vegetables, the event had three entertainment stages set up around the capital, hosting rock, R&B, and country music to appeal to the masses of attendees, including Jake Miller, who was recently in Milwaukee on his "Dazed and Confused" tour.
"We actually came for Avatar, but that isn't me and my son's favorite. So we're just food tasting and people watching," Collins said, referring to the rock metal band from Sweden singing their throats out on the stage.
"One word to describe this event would be lively…and filling," said Singh.
In addition to livelihood, events thrown by Madison Festivals, Inc. such as this one, purpose is to make living in Wisconsin more enjoyable, and one of Taste of Madison's best contributions is giving back to the community. Last year, Taste of Madison raised over $62,000 for 49 local non-profit organizations and charities. Beverage stands raised over $18,000 in tips alone. Information on how much was raised this will be released in the next few weeks.