'Bone Dance' creative costumes will bring multi-cultural ghost stories to life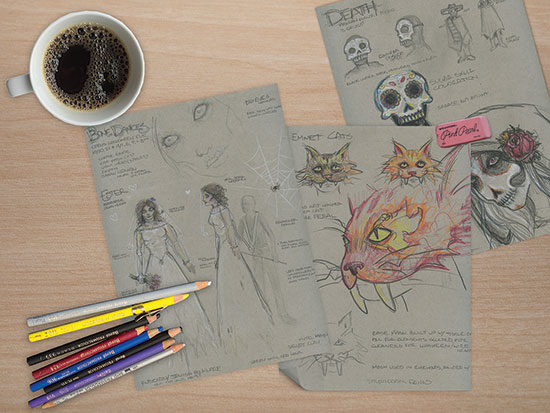 This Halloween, the sights of ghosts and the sounds of traditional storytelling and folk music will be filling the halls of the Truax campus, as Madison College Performing Arts brings the original musical "Bone Dance" to the Studio Theater. An ensemble cast will don masks and maneuver puppets as they speak, sing, and dance the 13 vignettes of multi-cultural ghost stories.
The show is one that the director, Robin Fonfara, has wanted to stage for the past 10 years, and felt the timing was right to bring this story to our stage for the fall play.
"'Bone Dance' is an incredibly creative musical," Fonfara said. "This show quickly became an audience favorite for Folklore Theater, and we are so fortunate to be able to bring the show to Madison College.  This material will allow our students so many opportunities to stretch their creative muscle and grow as actors, dancers, singers and theatre technicians."
The show was originally created by Door County's Northern Sky Theater, formally known as American Folklore Theater, which is known for many hit shows, including "Guys On Ice." The "Bone Dance" musical was created by Jeffery Herbst and the AFT Company. It is told in a traditional storyteller format using words, sounds, and music in an improvisational way to excite and engage the audience in an oral storytelling fashion.
Except for a Fringe Festival performance, this is the first time the original play has been staged by a group besides the Northern Sky Theater.
This type of performance, while it does follow a script, allows the actors to add their own creative touches to much of the show.
"Madison College Performing Arts has never produced a show written in the storyteller tradition," Fanfara said. "My colleague, Michael Lussenden, encouraged me years ago to explore this genre and I am so thankful that we now have the opportunity to share this with our students. So much excites me about the show: the material ranges from sentimental, to spooky, to just plain silly.  The collaborative possibilities are endless! I really want to encourage as many students as possible to become part of the 'Bone Dance' team."
The opportunity to use many different skills should be of interest to students wanting to be involved in a truly collaborative ensemble piece that has no stars, and will be a place for students to grow in many areas of theater performance.
Fonfara and the production team hopes that students with different types of abilities and skills will come out to the auditions and be a part of a truly ensemble group of artist creating a show together. If a student likes to sing or dance this musical offers amazing musical numbers and costumes to explore, and if improvisation or story telling is your thing, this is also the place for you.
There will be a rotating stage designed and built by set design and lighting artist Corey Helser, which offers another great opportunity for students interested in the production side of the show. There are also opportunities for students interested in sound, lighting, and stage production roles.
The masks and puppets will be created by Emmalee Pearson, a Madison College graduate and now full-time instructor. Pearson is creating these original designs based on traditional folktale themes and represents the multi-cultural spirit captured throughout the play. The colors, designs, and materials all take into account the needs of each vignette, and embrace the geographical origin of each story.
Pearson has designed a costume mask that will be worn by three actors, for the "Flying Head" monster that is illustrative of totem poles made by the indigenous peoples of the Pacific Northwest. Another triumph is the creation of the huge Corpse Bride puppet that will be maneuvered by an actor for the story "The Man Who Married a Finger."
A collaboration of creative talent by community artists and Madison College staff, the production team for "Bone Dance" will include: vocal and music direction by Taras Nahirniak, choreography by Cindy Servert, puppet and mask design by Emmalee Pearson, costume design by Rebecca Nebula Stanley, set design by Corey Helser, and direction by Robin Fonfara.
Audition & Performance Info
Auditions for "Bone Dance" will be Tuesday, Sept. 8, and Wednesday, Sept. 9, from 6:30 p.m. to 9 p.m., at the Truax Campus in Room A1017Q. Participants are to prepare a short vocal selection, and come dressed to move. The audition will include reading selections from the script, and a movement audition.
Auditions are open to all Madison College students.
Madison College Preforming Arts does not discriminate on the basis of race, color, national origin, sex, disability or age in employment, admissions or its programs or activities.
Production dates are Oct. 30, 31, and Nov. 1, 6, 7, and 8. Rehearsals are scheduled to start the week of Sept. 14, and are usually weekday evenings, Monday through Thursday 6:30 p.m. to 9 p.m.
All students who are interested in this opportunity or want more information should contact Robin Fonfara at: [email protected].
Also, look on the Madison College Performing Arts Facebook page for updates and news about the show and an upcoming open house on Sept. 3.